Young Sheldon: First Look
Play Sound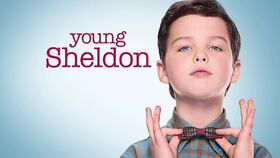 Young Sheldon is an American prequel sitcom series to The Big Bang Theory. It is created by Chuck Lorre and Steven Molaro. Its pilot episode debuted as a sneak preview on September 25, 2017 and it began airing after The Big Bang Theory on Thursdays, November 2, 2017. It is currently airing on CBS.
On January 6, 2018, the show was renewed for a second season, which premiered on September 24, 2018. It was renewed again for a third and fourth season by CBS on February 22, 2019.[1] The fourth season premiered on November 5, 2020.
On March 30, 2021, the series was renewed for three seasons, running throughout the 2023-2024 season.[2][3] The fifth season premeired on October 7, 2021.
Plot
The series follows The Big Bang Theory's Sheldon Cooper at the age of 9, living with his family in East Texas and going to school. It takes place in the late 1980s and early 1990s where Sheldon struggles to fit into the world around him while his family and friends attempt to deal with his talents as well as his challenges.
Overview
Jon Favreau directed and executive produced the first episode of the series, which stars Iain Armitage as 9-year-old Sheldon Cooper, as well as Zoe Perry, Lance Barber, Raegan Revord and Montana Jordan.
Chuck Lorre, Steven Molaro, Jim Parsons and Todd Spiewak serve as executive producers of the series, from Chuck Lorre Productions, Inc. in association with Warner Bros. Television.[4]
Jim Parsons narrates as the adult Sheldon.
Zoe Perry was cast as a younger version of Mary Cooper on Young Sheldon. She is the daughter of Laurie Metcalf, who played Mary Cooper on The Big Bang Theory. Despite her family link to the character, Zoe received the role through an audition, which was likely due to not wishing to just rush into taking someone and seeing if they were fit.
This show is filming in single camera.
The trailer shows how Sheldon Cooper became who he is. He still had the arrogant, egotistical, misunderstood and narcissistic personality even when he was young. He still continued to criticize others and think he was a superior to everyone else.
Sheldon was watching Professor Proton when he was a kid and was his inspiration to become a scientist.
Sheldon Cooper's timeline on the show starts from the fall of 1989, when he started high school at age 9. Sheldon won't start college til the fall of 1991. Sheldon won't leave for Caltech til 1994.
Cast
Episodes
Main article: List of Young Sheldon episodes
| | Season | Episodes | Season Premiere | Season Finale |
| --- | --- | --- | --- | --- |
| | 1 | 22 | September 25, 2017 | May 10, 2018 |
| | 2 | 22 | September 24, 2018 | May 16, 2019 |
| | 3 | 21 | September 26, 2019 | April 30, 2020 |
| | 4 | 18 | November 5, 2020 | May 13, 2021 |
| | 5 | 22 | October 7, 2021 | May 19th, 2022 |
| | 6 | 20 | September 8, 2022 | May 11, 2023 |
| | 7 | TBA | Fall 2023 | 2024 |
Timeline
1989-1990: Season 1 takes place
1990-1991: Season 2 takes place
1991: Season 3 takes place
1991-1992: Season 4 takes place
1992: Season 5 takes place
1992-1993: Season 6 takes place
1993-1994: Season 7 takes place
Production Notes
A sneak preview aired on September 25, 2017 at 8:30 p.m.[6]
Since Sheldon was born on February 26, 1980 and the series follows Sheldon at age 9 that means the series takes place starting in 1989.

It is shown in the first trailer that it does take place in 1989.
In real life, Jim Parsons was the around the same age as the high schoolers Sheldon went to school with.

This show features the first on screen appearances of Sheldon's father, George Cooper Sr. and older brother George Cooper Jr.
This show is an alternative to Malcolm In The Middle.
The third season takes place in the beggining of 1991, the fourth season takes place in the late 1991 to 1992. The fifth season takes place in the beginning of 1992, the sixth season will take place in the late 1992 to 1993, and the seventh season will take place in the late 1993 to 1994.
It was picked up for a full season on September 25, 2017.
This is the first time we get to see two shows with an adult Sheldon in The Big Bang Theory and Young Sheldon.
Kid versions of the Social Group appeared in the season 2 finale. Stuart, however, was absent and if he did appear, he would've been a teen.
The Big Bang Theory Caltech Cafeteria appeared in Young Sheldon season 3.
Young Sheldon holds lots of similarities to the arguably much more popular American sitcom Everybody Hates Chris in that they revolve on the unfortunate childhoods of celebrities with their older selves narrating. Both series would hold 22 episodes per season though Young Sheldon was shortened to 21 episodes in season 3 due to COVID-19 pandemic and they both have series starting with some certain word at the start except for Young Sheldon debut. As for season 4, with Coronavirus still strong in the U.S, the season was shortened to 18 episodes. As for Raj, Leonard, Howard and Penny etc, if they were to also recieve spin-off shows, they would likely also be similar to Everybody Hates Chris.
Off-network syndication of Young Sheldon begun on local stations and on the cable channel TBS on September 27, 2021.
References
External links