Spider-Man: No Way Home Trailer Dropped - The Loop
Play Sound
Wyatt Teller is the father of Penny, Randall and Lisa and the husband of Susan. He first appeared in "The Boyfriend Complexity".
Character Information
Wyatt is a very caring, friendly and fatherly person, who wants Penny to make both good decisions, but also to make his little girl happy. Penny mentioned her father at least twice before he appeared on the show. According to Penny in "The Maternal Capacitance" (S2E15), Wyatt originally wanted a boy, but got her instead. He called her "slugger" until she got her first training bra, at which point he also stopped playing catch with her. In "The Maternal Congruence" (S3E11), Penny mentions that Wyatt sent her a catcher's glove and a baseball for Christmas. When he learned that Penny was seeing Leonard, he was overjoyed, having met her moron ex-boyfriends. He was actually devastated at learning that they had broken up.
In "The Boyfriend Complexity" (S4E09), Wyatt is first seen in person. He comes to visit Penny, who claims, in order to get him off her back, that she and Leonard have got back together. As the episode progresses, the two carry on the ruse until Penny admits the truth to him. He is at first hurt that she felt a need to lie to him, but forgives her. When she is gone, Wyatt literally begs Leonard not to give up on her, as he is the best boyfriend she's ever had. He pretends to angrily throw Leonard out of the apartment as reverse psychology to get Penny's interest in him up. Leonard leaves, telling Wyatt that he will Friend him on Facebook.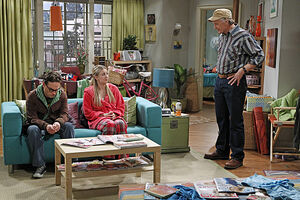 In "The Hesitation Ramification" (S7E12), Penny has a phone call with her father after it is found that her role in NCIS is cut when aired. Penny tells Wyatt that her part wasn't cut because she was too pretty. He also doesn't need to come to Los Angeles to kick Mark Harmon's ass. Wyatt does not appear on screen in this episode, nor is he heard.
In "The Bachelor Party Corrosion", Penny calls her dad to tell him that she married Leonard. First he asks if she is happy, which she is. He is a bit perturbed since she waited a week to tell him, but is understanding and supportive and tells her that he his happy for her since she is happy; however, this may be because having a secret of his own, having accidentally ran over her pet pig, Moondance - almost a year ago.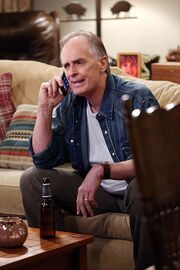 In "The Conjugal Conjecture", Wyatt comes to Pasadena with his wife Susan and their son Randall for Leonard and Penny's wedding. He tries to balance the tension between his wife and son, the latter who has formerly been on parole. He has a close relationship with Penny, but his wife thinks he isn't strict enough with Randall. He also drinks quite often, much to Susan's discomfort, although Penny drinks more than he does. Wyatt and his daughter clink bottles agreeing. He is glad to meet Leonard's mother Beverly, the woman who raised the fine young man Leonard (but apparently unaware, forgetting or unintentionally neglecting the fact that Leonard is not pleased of how she raised him) and Wyatt is also looking forward to meeting Leonard's father Alfred. At the wedding ceremony, Wyatt proudly escorts Penny down the aisle and advises Leonard not to lend Randall any money.
He reappears in the third episode of Season 12, "The Procreation Calculation" where he has only one shot and one line. Leonard had told him off-screen that Penny didn't want kids and when having heard about this. He calls Penny and says to her "What's this Leonard says about you not wanting to give me grandbabies?".[1]
He reappeared in Pasadena again in the fifteenth episode "The Donation Oscillation", making Season 12 the only season he has appeared in more than once. In this episode, he comes to visit Leonard and Penny and is then told about Leonard's intention to do a sperm donation for Zack and Marissa and he completely understands. Later, after a heartwarming talk with Penny, he tells her that whatever she decides he is on her side. Penny still feels that she is letting everybody down. Leonard comes marching in and tells Wyatt to back off since it is his and Penny decision. Wyatt has already discussed it with Penny, but compliments Leonard on being forceful. Leonard then tells Penny that he has changed his mind and he'd be heartbroken if there was a kid out there that he couldn't be the father of. Penny agrees with him and then he asks if her to do that thing from last night; however, Wyatt is still within ear range.
Family
Relationships
Penny
Wyatt loves his daughter a lot, but Penny had some issues with him when she was growing up since he was raising her like a boy and calling her "Slugger".
Susan
Wyatt and Susan are obviously happily married and so they are a good couple. Although during Susan's first appearance, things are a bit tense between them about Randall's drug actions and his ending up in jail.
Penny's Siblings
Wyatt's relationship with his two other children, Penny's brother Randall and their sister Lisa is not known but it's obvious he loves them very much. He may not have been strict enough with his son that ended up in prison. His other daughter's water broke while they were dancing at her wedding.
Leonard Hofstadter
Wyatt is very fond of Leonard. He sees him as the first smart boyfriend Penny has dated. While all her other boyfriends are whom Wyatt considers to be losers, Leonard is seen by Wyatt as a friendly, caring person and a successful accomplished academic. During the time spent together, he happily reminisces about Penny's much stupider boyfriends, remarking that Leonard is a keeper. The two are also seen doing many activities together, both of them rather fond with spending time with each other. Along with this, he also pleads with Leonard to never give up on her. He was happy to hear that they got married and looked very proud escorting Penny down the aisle at their wedding redo.
The rest of the gang
Wyatt never met any of Penny and Leonard's friends yet who are members of the gang until "The Conjugal Conjecture" where he was with them at Leonard and Penny's re-wedding, but didn't speak to anyone. Although during the ride to the airport, Wyatt says that Sheldon reminds him of a turkey Penny and her family had who drowned looking up at the rain.
Appearances
Trivia
The first mention of Penny's father was in "The Maternal Capacitance", where she called him 'Bob'; however, his name was later changed to Wyatt.
Wyatt, along with Penny's last name is yet to be known, since Penny's maiden name has yet to be established.
He is one of five fathers of every main character who has physically appeared on the show: the others being Raj's father V. M. Koothrappali, Bernadette's father Mike Rostenkowski, Leonard's father Alfred Hofstadter and Amy's father Larry Fowler (Sheldon's father is dead, Howard's left him at 11, Stuart's is only mentioned, Leslie's hasn't been seen or mentioned and Emily's is only mentioned and possibly dead).
Wyatt's fondest wish became true in "The Gorilla Dissolution" when Leonard and Penny became engaged. Now his grandchildren will not "live in a house on wheels".
Penny drinks more than Wyatt does.
Penny is his pride and joy and his other kids are okay.
Wyatt doesn't know that Leonard and Penny would have a grandchild in the end of season 12. He did respect Penny's wishes that she didn't want children.
Gallery
References