Wolowitz may refer to:
Howard Wolowitz, main character
Bernadette Rostenkowski-Wolowitz, main character, Howard's wife
Halley Wolowitz, Howard and Bernadette's daughter
Neil Michael Wolowitz, Howard and Bernadette's son
Debbie Wolowitz, Howard's mother (deceased)
Sam Wolowitz, Howard's father
Josh Wolowitz, Howard's half-brother
Mrs. Wolowitz II, Howard's stepmother
Murray Wolowitz, Howard's uncle
Betty, Howard's aunt
Gladys, Howard's aunt
Ida, Howard's aunt that lives in Florida
Elliot, Howard's uncle
David, Howard's first cousin
Marty, Howard's first cousin
Jeanie, Howard's second cousin
Overview
The Wolowitz Family is a family living in Pasadena, California.
The main Wolowitz character is Howard Wolowitz, who is an aerospace engineer at Caltech.
Howard's Family History
Howard was born to Sam and Debbie Wolowitz between March 1 and September 30, 1981. He grew up in a house just outside the city with his family. At some point between March 1992 and September 1993, when Howard was 11, his father left him and his mother and it's unknown where he went to and why he left.
For the rest of his life, Howard continued to live with his mother, even as adult, likely because of being a momma's boy. It seems he had a sort-of unhealthy relationship going on with her, but despite that, they were both very devoted and attached to each other. At the age of 15, Howard lost his virginity to his second cousin Jeanie in her father's Toyota Corolla, a moment that was embarrassing for Howard in his later life after his marriage to Bernadette.
Howard's mother died in 2015 and sometime after her death, Howard meets his half-brother Josh who is his father's son from a second family.
Gallery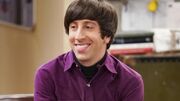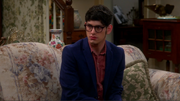 Script error: No such module "Mbox".
Community content is available under
CC-BY-SA
unless otherwise noted.