House of the Dragon Trailer - The Loop
Play Sound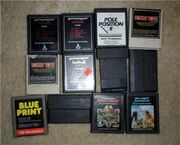 Friday night is "Vintage Game Night" where the guys tend to order Chinese food ("The Hofstadter Isotope") and play retrogaming|vintage video games.
Sheldon's mother sent Sheldon his old Nintendo 64 game console, and he was excited to play Super Mario 64 one Friday evening toward the end of September, 2008; however, Leonard had a date planned with Leslie ("The Codpiece Topology").
On one other occasion, Sheldon has claimed he and the gang were going to be playing Zork, a popular text adventure game from the 1980s ("The Hofstadter Isotope").
Sheldon tries to get his new "social group" consisting of Stuart, Kripke and Zack Johnson to play vintage video games when he invites them over in "The Toast Derivation".