"The Terminator Decoupling" is the seventeenth episode of the second season of the American sitcom The Big Bang Theory. This episode first aired on Monday, March 9, 2009.
Summary
While the guys go to San Francisco to a conference via train, they share their coach with Terminator: The Sarah Connor Chronicles actress Summer Glau whom everyone tries to hit on, except for Sheldon. Sheldon must rely on Penny back in their apartment to download and email him a research paper he forgot.
Extended Plot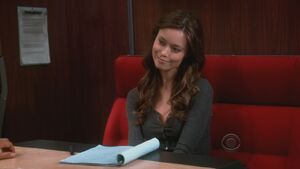 Howard is about to perform surgery on a TiVo hard drive when Sheldon objects to them breaking the seal and voiding the warranty. It is pointed out that otherwise, Sheldon will have to erase the first season of "Battlestar Galactica" to make more room on the drive, Sheldon opts to violate the trust. Penny arrives with the suitcase that Leonard wanted to borrow on their trip to San Francisco for a symposium where there will be "discussions on bio-organic cellular computer devices, advancements in multi-threaded task completion, plus a round table on the non-equilibrium Green's function approach to the photo-ionization process in atoms." When Penny goes to San Francisco, she just gets hammered and rides the cable-cars.
Leonard is excited since they will meet Dr. George Smoot, a Nobel Prize winning physicist, whose work in black body form and anisotropy of the cosmic microwave background radiation completely altered our understanding of the universe. Their mode of transportation is by train thanks to Sheldon's insistence which will take 7 hours and is twice as expensive as flying.
Leonard and the other guys were going to go to the Apple Store Genius Bar to make fun of the employees; however, Sheldon is too busy spending three hours attaching RFID tags to every article of clothing he is taking and indexing them on his laptop referencing his clothes to by events, destination, duration of trip, weather, etc. thus over complicating things.
On board the train (about the time the plane would have landed at SFO), Sheldon has them sitting to see the panoramic ocean vistas (without any Costco's or Jiffy Lube's) and without feeling the train axles on this Pullman-built Superliner Deluxe Passenger coach. Raj prefers the American train over the third-class coach on a train in India, whose bathroom consists of a hole in the floor of the train. The guys then notice Summer Glau, the actress from "Firefly" and "Terminator: The Sarah Connor Chronicles" getting on the train. Sheldon muses that she could be a Terminator from the future in disguise that has infiltrated shows and movies about Terminators to wreak havoc on the human race. Howard wonders how he can score with her. Raj thinks he has a better shot of scoring with Arnold Schwarzenegger. Also Raj is foreign and exotic vs. Howard's pasty and frail. Leonard would try, but he figures failure with one gorgeous woman is enough in his lifetime. Raj heads to the lounge to get a beer.
Sheldon realizes that he has forgotten his flash drive and must go back right now. He has a paper concerning astrophysical probes of M-theory effects on the early universe that he planned to give to George Smoot. He can't email it because he won't get to see Dr. Smoot's face light up. First he plans an alternate route to get back and then starts to really drive Leonard crazy. Leonard tries to tell him that there's nothing he can do about it, so he should just relax chanting to the rhythm of the train. Leonard tells him to contact Penny to get it for him. "People don't go in my room!" Sheldon reminded him. Leonard replied, "Well, once again, it looks like you're caught between a rock and a crazy place."
Howard has his opening line: "It's hot in here; must be Summer," which is used by Raj after Howard chickens out on his first pass of Summer. She thinks his line is cute and Raj is going all-out, and it's actually working.
At Penny's apartment, she is trying to get some people to come to see her play Anne Frank over a bowling alley. Putting him on hold, Sheldon starts to give her exact instructions while she has him on hold. She doesn't understand so Leonard interprets that he wants a favor without using the words "Penny," "Sheldon," "favor," or "please."
Raj is describing to Summer the Big Dipper when he asks Howard to get him another beer. As Sheldon continues to give directions to Penny, Howard realizes that it was a non-alcoholic beer. When Howard shows this bottle to Raj, he stops talking immediately. Howard then slips in and starts talking to Summer. "Hi, I'm the small package good things come in."
In Sheldon's bedroom, Penny has found the wrong box full of letters from Sheldon's grandmother who calls him "Moon Pie." When Sheldon gets upset, Leonard convinces her to put them back. She does, but addresses him as "What up, Moon Pie!" Penny finally finds the correct box, but it's a Japanese puzzle box that requires 10 moves to open it. Penny just smashes the box with her foot.
Howard thoroughly bores Summer describing a dream he has about her including telling her that in her dream her legs turned into a loaf of pumpernickel bread. By the way, did you know the words "pumper" and "nickel," in German, loosely translate to "fart goblin?" Finally he asks if he has any chance with her and she turns him down. She does agree to have a picture taken with him; however, off camera his behavior causes her to break his cell phone.
Finally, Penny is ready to send the paper to Sheldon, however, she wants to know why she called him Moonpie. ("I'm nummy-nummy, and she can just eat me up.") Finally, Leonard starts to talk to her, Summer reaches her stop and she retreats quickly.
Sheldon meets with Dr. Smoot who is very annoyed with Sheldon and asks him if he was on crack.
Credits
Critics
"A nice plug for the Terminator: The Sarah Connor Chronicles provides the guys with an enjoyable new setting to deliver the same old jokes." - The TV Critic's Review
Notes
Title Reference: Howard and Raj trying to talk with Summer Glau, who starred in the "Terminator" TV show.
This episode was watched by 9.46 million people with a rating of 3.6 (adults 18-49).
Chuck Lorre's vanity card [1]
Reception: On the night of its first broadcast on March 9, 2009, the episode was watched by 9.46 million households, according to Nielsen ratings. The episode received a 3.6 rating/10 share among viewers aged between 18 and 49, and a 2.4 rating/8 share among viewers between 18 and 34.
The episode received modestly positive reviews. Noel Murray of The A.V. Club praised the writers for evenly including all the main characters in the episode.[1] IGNs James Chamberlain found Glau's acting lacking emotion, remarking "it felt as though Cameron were on the show and not Summer".[2] Alan Sepinwall from The Star-Ledger also remarked this episode as a balanced one for the cast ensemble.[3]
This episode marks the first large guest appearance by a major celebrity (previous appearances, such as by Charlie Sheen, were only brief cameos).
Most broadcasts of this episode in the UK cut Dr. George Smoot's only line, because it refers to crack.
Episode transcript [2]
Costume Notes
Sheldon wears a blue T-Rex shirt over a green long sleeved tee, a Greatest American Hero shirt, and a Spectrum shirt, discontinued from Urban Outfitters, over an orange long sleeved tee.
Leonard wears an orange-ish shirt with an unknown graphic, a green vintage Planet of the Apes shirt, and an unknown design featuring birds flying on a blue shirt.
Set/Props Notes
Above Sheldon's bed
In the comic bins
Other
Trivia
When Sheldon mentions a round table on the non-equilibrium Green's function approach to photoionization processes in atoms, he is likely referring to the work by physicists in Kiel [3], which had been submitted for publication a month before the episode aired.
When Sheldon initially calls Penny, she is talking to one of her friends about being in an upcoming play, which is her opportunity to portray Anne Frank. This fact is an in-joke referring to the fact that, when Kaley Cuoco was a cast member on "Simple Rules For Dating My Teenage Daughter", her character also played the role of Anne Frank in a high school drama production.
Leonard says that (Sheldon) '...he didn't use the words Penny, Sheldon, please or favor.' In fact, when Penny asked who was on the phone, Sheldon said 'It's Sheldon'.
Summer Glau also appeared on Firefly, a show that Sheldon was a huge fan of (and was devastated when it was cancelled.) Strangely, Sheldon makes no reference to this.
George Smoot had written to the producers of the show and requested to be featured on the series.[4][5] Smoot, who received Nobel Prize in Physics in 2006, is an admitted fan of the series.[6] The scene involving Smoot was shot at the Warner Brothers Studio in Burbank, California on February 18, 2009.
Summer Glau also appeared as herself in the episode. Summer Glau is part of the cast of "Terminator: The Sarah Connor Chronicles" which along with The Big Bang Theory is produced by Warner Bros. Television. Bill Prady, one of the creators of The Big Bang Theory, presented the script of the episode to Josh Friedman, creator of "Terminator: The Sarah Connor Chronicles" with the plan of casting Summer Glau as herself. [Friedman, impressed with the story, suggested it to Summer Glau.[7]
Raj doesn't need to be drunk to talk to women, it apparently suffices that he thinks he has drunk alcohol. This is plausible as selective mutism is believed to be a psychological issue, rather than a neurological one (i.e., it is "in one's head", rather than the result of some sort of brain damage). While this makes it no less legitimate as a mental health issue, it improves prognosis, as psychological issues can be overcome by therapy or disappear in time (whereas neurological issues generally do not abate by themselves, although they may still respond to medication). Indeed, Raj eventually overcomes his mutism on his own later on in the show.
Before Penny opens Sheldon's Japanese puzzle box (a novelty he ordered on the Internet) to retrieve his flash drive, the Dover Publications text Atomic Physics by Nobel Prize-winning physicist Max Born is visible in Sheldon's room amid a stack of books on his dresser.
Sheldon's room is frequently seen with different comics in the bins on the shelves, and framed above the bed. This episode got BOTH. The set include:
Riding a train from Los Angeles to San Francisco is somewhat impractical, as one would need to transfer from Amtrak to a Caltrain commuter train at San Jose, which has very little baggage space (especially aboard the older cars). There used to be a passenger train going from LA to San Francisco called the Coast Daylight (and in fact, there is a proposal to restore the train).
"Terminator: The Sarah Connor Chronicles" went off the air in 2009.
Quotes
Penny: [going through a box to find Sheldon's USB flash drive] Okay, I've got a box, but there's no key in here. Just letters.
Sheldon: [edgy] That's the wrong box. Put it back.
Penny: Oh, Sheldon, are these letters from your grandmother?
Sheldon: Don't read those letters!
Penny: Oh look! She calls you Moon Pie! That is so cute!
Sheldon: PUT DOWN THE LETTERS!
---
Sheldon: Of course, if Skynet actually did exist in the future, a perfect way to infiltrate and destroy mankind would be to send Terminators back posing as actors who have played Terminators in popular films and television series, lulling us into a false sense of security, i.e., that's Summer Glau from The Sarah Connor Chronicles. No, Summer, don't kill me! I'm pro-robot! Ahh!
Leonard: At least he's off the train crap.
Sheldon: Whee!
Howard: Sheldon, I owe you an apology. Taking the train was a stroke of brilliance! I've actually got a shot at a Terminator.
Raj: Oh, please. When it comes to Terminators, you've got a better shot of scoring with Arnold Schwarzenegger.
Howard: You're overlooking something. I have 11 hours with her in a confined space. Unless she's willing to jump off a moving train, tuck and roll down the side of a hill, she will eventually succumb to the acquired taste that is Howard Wolowitz.
Leonard: My money's on tuck and roll.
---
Sheldon: Its Sheldon.
Penny: Oh, hey, Sheldon! How is San Francisco?
Sheldon: I'm not in San Francisco. I'm on a train. Were you even listening to me?
Penny: Uh, no, I was talking to my friend, but what's up?
Sheldon: What's up? I'll tell you what's up. I'm in a crisis situation, and I need you to marshal your powers of concentration, limited as they may be…
Leonard: Give me the phone. Hi, Penny. It's Leonard.
Penny: Hey, Leonard. What's going on with Dr. Wackadoodle?
Leonard: He's calling to ask you a favor. You might be confused because he didn't use the words, Penny, Sheldon, please or favor.
Gallery
References
Community content is available under
CC-BY-SA
unless otherwise noted.