Wiki Targeted (Entertainment)
Play Sound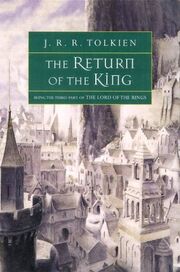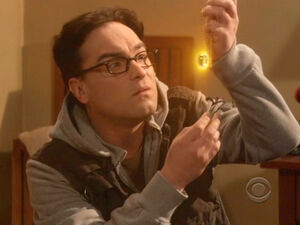 The Lord of the Rings is an epic high fantasy novel written by English author J. R. R. Tolkien. The story began as a sequel to Tolkien's 1937 children's fantasy novel The Hobbit, but eventually developed into a much larger work. The novel consists of three volumes and they are titled The Fellowship of the Ring, The Two Towers, and The Return of the King. The fantasy novel has been adapted into The Lord of the Rings (film series)|a series of three movies. Another three more movies were recently adapted from the novel The Hobbit; An Unexpected Journey, The Desolation of Smaug, and The Battle of Five Armies.
Leonard, Sheldon, Howard and Raj are all enthusiasts of the series.
Episodes
In "The Middle-Earth Paradigm" (S01E06), Leonard dresses as Frodo to attend Penny's party.
In "The Precious Fragmentation" (S03E17), the guys find a ring that was used as a prop in the films. They take various measures to win custody of the ring. In a dream sequence Sheldon finds himself turning into Gollum and playing out a Smeagol-to-gollum dialogue with his mirror image.
In "The Anything Can Happen Recurrence" (S07E21), For Anything-Can-Happen Thursday, Sheldon suggests that he, Leonard, and Penny go to Griffith Park to join a group that reenacts battles from "The Lord of the Rings".
In "The Commitment Determination" (S08E24), Sheldon consults his Gollum statue on what to do with the ring in bought Amy after she steps back from their relationship.
External links
The Lord of the Rings at Wikipedia