Wiki Targeted (Entertainment)
Play Sound
"The Locomotion Reverberation" is the fifteenth episode of the tenth season of American sitcom The Big Bang Theory. The episode aired on Thursday, February 9, 2017.
Summary
Howard and Leonard try to make their invention even smaller without Sheldon who's busy trying to assemble real train engine. Raj and Stuart look after Halley Wolowitz while the girls take Bernadette out.
Extended Plot
While working on their gyroscope, Sheldon is looking over his calculations and says that they can make it even smaller. Leonard and Howard object since they are almost finished and have met the Air Force's size requirements. Sheldon feels that everyone likes smaller things while they just want Sheldon to go for a walk.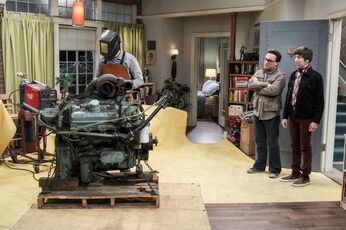 Leonard decides to get Sheldon out of their hair by giving him a train day at a museum at the Nevada Northern Railway where he can be a real train engineer. Sheldon hugs him, runs off to the restroom and the guys get back to work. Problem solved.
Bernadette is filling out a daycare center application for Halley. The girls ask what they can do to help and Bernadette asks them to open up a college fund, shop for life insurance or work on the mountain of laundry. They float the suggestion that she needs a girl's night out, so they are all going dancing. Amy wants to see the San Gabriel Renaissance Choir. Bernadette agrees and they decide to leave Raj and Stuart in charge.
Sheldon arrives at home and Amy finds him very happy about his train day AND Amy gets to drive him since its so far from an airport. They get to sleep in a caboose while Sheldon gets to drive a steam locomotive and a diesel locomotive. Amy is just thrilled.
The guys get to work uninterrupted as Sheldon is busy studying his engineer's manual. Colonel Richard Williams shows up and his delighted with their progress until he sees Sheldon's math. The Colonel WANTS the smaller version. They point out that that would add several extra weeks of work which the Colonel doesn't mind. Now they need Sheldon back.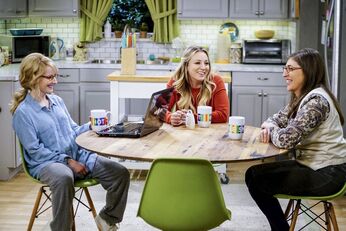 The girls meet at Bernadette's and they are ready to get crazy. The bra Amy is wearing is not beige. Bernadette has her dancing shoes on and her breast pump. Amy figures if she uses it at the bar; all the girls could get free drinks. Stuart and Raj are going to take care of Halley, though Bernadette wants them to call her and not Howard in case they have a problem. Raj and Stuart decide to break up the chores into what goes in and what comes out of little Halley.
Leonard and Howard can't believe that they have to get Sheldon back since they already got rid of him. They find Sheldon working in his apartment welding on a train engine. When asked to get back on the project, Sheldon finds it interesting that he is right. He doesn't want to go back to theoretical physics that don't prove anything. It's very satisfying working with his hands. Now he feels like he is an engineer – train engineer, not a goofy engineer like Howard.
Bernadette keeps talking about Halley's pre-school applications, while the other girls want to have some fun. Raj calls Bernie who is worried about the date on Halley's milk. She assures them that it's fine. So does Stuart who says that he would drink it until Bernadette gets annoyed and tells Stuart to not drink her breast milk. Bernie just feels she left her baby with SpongeBob and Patrick. Driving around the girls try to decide where to go. Amy knows where to go hear some Latin music. They wonder if they are just out trying to recapture their youth; followed by Amy and Penny lamenting that they haven't gotten as far along in their relationships since Bernie has a house and a family already.
The guys are still trying to convince Sheldon to rejoin them. If he wants to work more with his hands, why not help build a more miniaturized guidance system? Sheldon agrees, but needs his friends to help clean up the apartment before Amy gets back.
Another day on their way to the train museum, Sheldon can't stop talking about it. Amy drifts off and sees Sheldon all sweaty and manly at the controls of his stream locomotive turning Amy on. Amy then revs up her engine to get them to their destination faster.
Credits
Notes
Title Reference: Refers to the results of Leonard's decision to send Sheldon on a train-themed vacation.
Taping date: January 17, 2017
This episode was watched by 14.15 million people with a rating of 3.0 (adults 18-49).
Total viewers including DVR users 19.24 million.
This episode aired in Canada on February 9, 2017.
Chuck Lorre's vanity card #551
Episode transcript [1]
Critics
Caroline Preece at Den of Geek! - In order to get Sheldon out of their hair while they wrap things up at the lab, Leonard gives him an invitation to some sort of train experience. Obviously Sheldon's thrilled with this and doesn't for a second suspect that the gift is anything other than completely heartfelt and genuine, and for the rest of the episode we must deal with his excited ramblings about all of the things he'll get to do...On the other side of the hallway, Penny is having a midlife crisis...The friendship between the girls has consistently been well-cared for, which I appreciate greatly, so this is an obvious element of Bernadette's pregnancy arc. As much as Bernadette's having trouble keeping on top of things now that Howard's back at work, Penny is sad that she doesn't have the things her friends do. [2]
Trivia
Leonard, Sheldon, and Howard finally finish the gyroscope for the U.S. Air Forece, but are forced to make a smaller gyroscope when Colonel Richard Williams sees Sheldon's plans for one.
Sheldon begins to take an interest in engineering (though he claims that it's not the same as Howard's engineering).
Bernadette has her first girls' night since giving birth to Halley.
Sheldon once again mocks Howard for being an engineer, despite signing a contract where he promised to no longer do so.
This episode reveals that Howard has finished his paternity leave.
The song played during Amy's fantasy about Sheldon is "Rock You Like a Hurricane" by The Scorpions.
Sheldon still hasn't done anything regarding his engagement ring since Amy found out about it, prompting her to wonder if he really wants to marry her anymore.
Amy gets turned on when fantasizing over Sheldon running a steam locomotive.
Amy doesn't believe Sheldon has considered marriage even though she knew he had an engagement ring
Sheldon foreshadows his later dissatisfaction with being unable to make any breakthroughs with dark matter and thus theoretical physics in general in "The Retraction Reaction" and "The Solo Oscillation" in this episode, when he tells Leonard and Howard about so much being unprovable in theoretical physics.
Quotes
Sheldon (to Amy in her fantasy): May I borrow your water?
(Sheldon drenches the water on his body as "Rock You Like a Hurricane plays in the background")
Sheldon: The light's green. (Amy snaps out of it)
Amy: Sorry.
Sheldon: GPS says we'll be at the railway in three hours.
Amy: I can get us there in two. (steps on the gas pedal)
---
[first lines]
Howard: OK. I'm zeroing out the electro-osmotic flow rate in the micro-fluidic channel.
Leonard: Nicely done, Howard.
Howard: Well, my wife is four foot ten and sexually satisfied, so clearly I know my way around tiny things.
Leonard: Good for you. On the cutting edge of new technology and still making inappropriate comments about the mother of your child...
Howard: And those are just the things I say out loud.
Sheldon Gentlemen, we need to stop immediately.
Howard: What's wrong?
Sheldon I've been looking at the math, and I think we can make the device between eight and ten percent smaller.
Sheldon That's great,but the Air Force approved the specs; we're good to go.
Howard: Yeah, it doesn't need to be smaller.
Sheldon Shame on you! Where would we be if poodle breeders had that attitude? I'll tell you: we would have the standard and miniature poodle, but no toy or teacup. Which, by the way, is not an official breed, but that's just poodle politics.
Leonard: Can we please stop talking about poodles!
Sheldon Fine. Candy bars! Now, do you enjoy a fun size? I know you do.
Howard: Sheldon,we don't need to make this smaller and your work is done. Go home.
Sheldon I don't want to go home.
Leonard: Fine. Go for little walk.
Sheldon Then what?
Leonard: Just keep walking.
---
Bernadette: Sorry, Howie's back at work and there's just so much going on.
Amy: Is there anything we can do?
Bernadette: Sure: open up a college fund, shop for life insurance, and in the laundry room there's a mountain of dirty laundry. Wash it or burn it; your choice.
---
Stuart: Instead of arguing all night, let's just split up the baby chores.
Raj: Yeah, great. Um, I'll put food in the top half; you deal with whatever comes out the bottom.
---
Howard: Open a window; it's about to get smug in here.
---
[last lines]
Sheldon GPS says we'll be at the railway in three hours.
Amy: I can get us there in two.
---
Leonard: You know, I do have a way to get him out of our hair. I've been holding on to this for a few years, but maybe now's the time.
Howard: We can just lock the door, you don't have to kill him.
Leonard: You can't kill him. He just respawns at the last save point.
---
Colonel Williams: [Pointing at Sheldon's board] What's this?
Leonard: Oh, nothing. Just some math we don't need.
Colonel Williams: This is a different approach. You're trying to make the guidance system even smaller?
Leonard: It's just a theory, it's not even worked out.
Colonel Williams: Oh. I want this.
Howard: But we already met the agreed-upon specs. Going smaller would require weeks of new computations.
Colonel Williams: So get the kid with the two shirts to do it.
Leonard: Sir, if I may, we've put a lot of thought and effort into making the current prototype. It's a really elegant solution, and most importantly, it works.
Colonel Williams: Yeah, I want this.
Howard: It's just a theory. It's not even a complete thought.
Colonel Williams: You both make excellent points. Thank you for presenting it so articulately. Make this.
Howard: The kid with the two shirts screwed us again.
---
Sheldon I'm an engineer now. And just so we're clear, a train engineer. Not the goofy kind you are.
---
Penny: Great. You guys ready to get crazy?
Amy: Well, the bra under here isn't beige.
---
Sheldon In the world of theoretical physics, you never finish. So much is unprovable. But when I was studying that railway guide, it was so tangible and so satisfying that something just clicked. Then it clacked. Then it clicked and clacked, click-clack, clickety-clack and here we are! Whoo-whoo!
---
Howard and Leonard are walking up the stairwell
Howard: I can't believe we have to ask Sheldon to come back and help us.
Leonard: Oh, boo-hoo. I spent four grand on a gift that only got rid of him for an afternoon. [they stop outside the door, and hear sizzling] What is that?
Howard: I don't know, but if he yells "It's alive!", we run.
Gallery
Community content is available under
CC-BY-SA
unless otherwise noted.