December 2013
12 December 2013

Golden Globe Nominations
Congratulations goes out to the cast and crew of The Big Bang Theory for their Golden Globe Nominations!
The show is up for Best Comedy Series and Jim Parsons received his third nomination for Best Actor in a Television Comedy Series. He won this award in 2011. The Golden Globes will be handed Sunday, January 12. [SOURCE]
October 2013
23 October 2013

Producers Guild To Honor Chuck Lorre with Norman Lear Award
Chuck Lorre will receive the 2014 Norman Lear Achievement Award in Television from the Producers Guild of America at the PGA Awards on Jan. 19.
Lorre is being honored for his work on such shows as "The Big Bang Theory," "Two and a Half Men" and "Dharma and Greg" – "series that have impacted television on a level that we rarely see," said PGA Awards co-chairs Lori McCreary and Michael De Luca in a statement. [SOURCE]
September 2013
26 September 2013
Sheldon and Penny share intimate secrets while Leonard is away at sea, later, Sheldon's feelings are crushed when Leonard returns. Meanwhile, Raj gets consoled about his ex-girlfriend and Wolowitz's relationship with his mother causes an unusual threat to his masculinity, on a special one hour of the seventh season premiere of THE BIG BANG THEORY Thursday, Sept. 26 (8:00 – 9:01 PM, ET/PT) on the CBS Television Network. Regina King returns as Mrs. Davis, the University's Director of Employee Relations, and Kevin Sussman returns as Stuart, the comic book store owner. [SOURCE]
15-22 September 2013

Emmy Awards 2013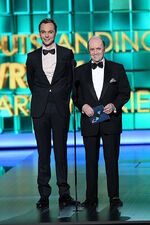 Jim Parsons won the top comedy actor trophy for "The Big Bang Theory." [SOURCE]
In a career that has spanned six decades, Bob Newhart won his first-ever Emmy in the outstanding guest actor in a comedy series category for his recent performance on "The Big Bang Theory." Newhart played Professor Proton, a childhood inspiration to main characters Sheldon (Jim Parsons) and Leonard (Johnny Galecki). [SOURCE]
10 September 2013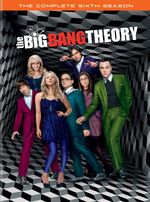 Whether on or above Earth, hilarity is outrageously universal in TV's most popular comedy featuring four forward-thinking but socially backward geniuses. Fun discoveries multiply: Leonard learns jealousy is bad for a relationship (with Penny) but science is good for seduction (of Penny). Howard finds life in the International Space Station life is no escape from terrestrial turmoil between his mom and his new wife Bernadette. Raj meets someone special who may be a good match, if he can keep her from fleeing mid-date. And then there's Sheldon. He learns what not to say after facing harassment charges or competing for tenure at work and how Dungeons & Dragons can be the icebreaker his relationship with Amy needs. For those who need laughter with scientific regularity, this 24-episode Season Six set of The Big Bang Theory will rock your cosmos.

Format: AC-3, Box set, Color, Dolby, NTSC, Subtitled, Widescreen
Number of discs: 3
DVD Release Date: September 10, 2013
[SOURCE]
July - August 2013
20 August 2013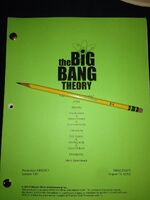 The Big Bang Theory is officially BACK...in production! [SOURCE]
FILMING SHOW DATES:
★ 8/20/13 ★ 8/27/13 ★ 9/4/13 ★ 9/17/13 ★ 9/24/13 ★ 10/8/13 ★ 10/15/13 ★ 10/29/13

19 July 2013
File:Comic-Con 2013 - The Big Bang Theory Panel - Part 1|150px|center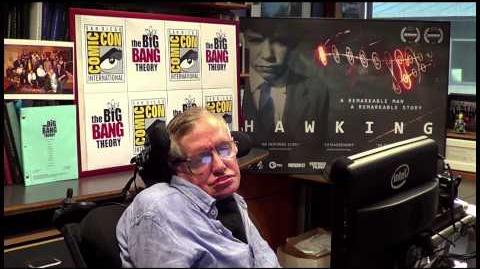 The Big Bang Theory took center stage at Comic-Con International in San Diego with a video appearance by world-renowned author and physicist Stephen Hawking. [SOURCE]
May 2013
16 May 2013

Season Finale - "The Bon Voyage Reaction"
A new success for Leonard makes Sheldon very jealous and throws Penny for a loop. Meanwhile, Koothrappali pushes Lucy too far in their relationship.