"The 21-Second Excitation" is the eighth episode of the fourth season of the American sitcom The Big Bang Theory. This episode first aired on Thursday, November 11, 2010.[1]
Summary
Sheldon, Leonard, Raj, and Howard excitedly plan to attend a screening of Raiders of the Lost Ark that includes 21 seconds of never-before-seen footage; however, their plans go awry when Sheldon's nemesis, Wil Wheaton, shows up at the theater. Meanwhile, Penny hosts a girl's night party at her apartment with Bernadette and Amy who invited herself to the party and begins to bond with them.
Extended Plot
The gang is watching Raiders of the Lost Ark and everyone is enjoying it, even Penny. She'd like to know how Indiana Jones got so good with the whip if he was an archaeologist. The guys are going to the midnight showing of the movie, complete with 21 extra seconds of footage which will explain the submarine controversy. Leonard can't believe she had never seen Raiders. Penny can't believe he's never read Eat, Pray, Love. Raj has read it and it changed his life.
At the Cheesecake Factory, Sheldon is panicking the movie is only seven hours from now and they have to get in line. After Howard mocks Sheldon, he feels that his roommate Leonard should back him up. Sheldon wonders what happened to the Leonard Hofstadter who waited in line with me for 14 hours to see the midnight premiere of Star Trek: Nemesis. Leonard waited for 14 hours as Sheldon napped, he got in a fight with a Klingon and worst of all they had to watch the terrible movie. Amy tries to be more accepted in his social group by agreeing with everybody else. After Bernadette gets cute with Howard, she mentions her girl's night with Penny. Amy Farrah Fowler tells her that she is a girl too and proceeds to get herself invited. She feels that she and Penny are best friends and Penny nonchalantly agrees, though she has to go shopping for something comfortable to wear.
As it turns out, Sheldon was right and the line is ridiculously long. To make matters worse, the evil Wil Wheaton, the Jar-Jar Binks of the Star Trek universe, shows up with his friends from the comic book store. The bouncer is a big fan and he immediately let them into the theater.
At Penny's apartment, Amy is describing her unusually firm cervix and a tilted uterus not quite getting the concept of girl talk. As Penny shows Bernadette her new manicure, Amy starts talking about her friend's thesis on the fungus that grows on manicure implements should do the trick nicely. Penny reaches for the next bottle of wine. Bernadette suggests they'll have to make it a slumber party. Amy adds that they'll do makeovers, initiate phony phone calls, and have spirited pillow fights in our frilly nighties! Penny reluctantly agrees and immediately gets a pillow in the face from Amy.
Back in line, Sheldon reads Wil Wheaton's tweet "Best seats in the house for "Raiders" screening. Suck on that, Sheldon Cooper." Then he gets a call on his phone to test its quality using test phrases. "Imatote. Ulba. Twad. All together? 'I'm a total butt-wad.' Why are you laughing?" It was Penny making a phony phone call.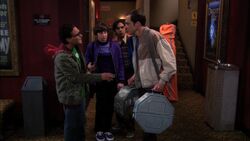 Later, she gives Amy a manicure which makes her nails look prettier than they have ever been. Then she makes her take it off. The next game is "Truth or Dare". Amy asks Bernadette a question about killing bacteria in beef followed by asking her the circumference of her areolas.
The bouncer cuts the guys off just as they reach the theater. Sheldon starts complaining until he sees an open door and runs in stealing the movie print from the unguarded projection room: "If I can't see it, no one else can see it." Wil Wheaton finds Sheldon in his act of thievery and he leads the whole theater after Sheldon and the guys reminiscent of Indiana Jones' race to his pontoon plane in Raiders with appropriate background music.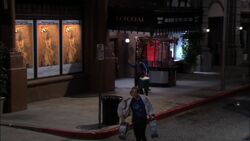 Amy is finishing telling "The Miller's Tale" by Chaucer in the original Middle English which was the dirtiest story she knew. Bernadette had dared her to tell one. Bernadette then asks Penny why she hangs out with Leonard even though they broke up. Penny explains that just because they're not seeing each other anymore doesn't mean we can't be friends. Leonard's a great guy. He got too serious and she wasn't ready for it. Then they ask her if she is ready for it in the future how she feel if she was with someone else since he is "a great guy"; however, Amy and Bernadette have gone too far. Penny doesn't want to play the game anymore and leaves, upset. Amy thinks that they've won the game.
Much later, Amy wants to find another game since Penny is still upset. Her list includes eating raw cookie dough or experimental lesbianism. Amy enters Penny's bedroom as Penny first greets and then screams asking her, "What are you was doing?". Bernadette thinks skipping to eating raw cookie dough was a better option.
Credits
Critics
The TV Critic: "It makes sense that Amy would be like Sheldon, how else could he tolerate her? The writers try hard here to write her as a surrogate Sheldon in scenes with Penny. While this largely fails there are moments where it succeeds...Amy is presented as having no social skills or understanding at all. While that can work (as with Truth or Dare?), more often than not the writers just had her say inappropriate things...There is promise in Amy yet but they need to define her. I'm not sure there is promise in Leonard and Penny anymore which is a shame." The TV Critic's Review
The A.V. Club gave this episode a B+.[2]
Notes
Mayim Bialik became part of the main cast in this episode by being listed in the opening credits.
Title Reference: Sheldon, Leonard, Raj, and Howard are excited to see a print of Raiders of the Lost Ark, which includes 21 seconds of never-before-released footage.
This episode was watched by 13.11 million people with a rating of 4.2 (adults 18-49).[3]
This episode aired in Canada on November 11, 2010 with 3.304 million viewers and a weekly ranking of #1.[4]
In the United Kingdom, this episode aired on December 23, 2010 with 0.749 million viewers.[5]
In Australia, it aired on February 23, 2011 with 0.852 million viewers and a weekly ranking of 44.[6]
Episode transcript [1]
Costume Notes
Sheldon wears a space shoot'em up t-shirt (aka "shmup), now discontinued at JINX.
Trivia
Quotes
Amy: Yes, and continue to bond. I have a feeling that after tonight, one of you will become my best friend forever, or BFF if you prefer - which I don't.
---
Bernadette: Oh, no. That movie has melting faces. It reminds me too much of the time I dropped that vial of flesh-eating bacteria into the Rhesus monkey lab. Besides, Penny and I are having a girls' night tonight.
---
Sheldon: I believe in knowing my enemy, Leonard. Had Twitter existed at the time, would not General Custer have followed the tweets of Sitting Bull? Would not Lee have followed Grant? Would not Spy have followed Spy? I have more examples, but excuse me. (On phone) Hello. Well, this seems like an odd time to test my cell phone quality, but go on. Test phrases? All right. I'm a toat. Ulbut. Twad. All together? I'm a total butt wad. Why are you laughing? Hello?
---
Wil Wheaton: Oh, look who they let in.
Sheldon: Don't worry, Wil Wheaton, I was just leaving. (Taking the Indiana Jones movie and singing) Da-da-da-da, da-da-da. (Exits)
Howard: Come on, short round.
Leonard: Yeah.
---
Wil Wheaton: He's got the movie! Get him!
Sheldon: Why is there never a pontoon plane when you need one?
---
Sheldon: "Trouble" is my middle name, Leonard. Actually, it's Lee, but I prefer "Trouble".
---
Wil Wheaton: (Jar-Jar imitation) Meesa think that very funny.
---
Sheldon: Imma tote. Oba. Twad. Altogether? "I'm a total butt wad." (The other guys laugh) (to the "person" on the phone) Why are you laughing? Hello?
Gallery
References