We're Getting Mutants in the MCU - The Loop
Play Sound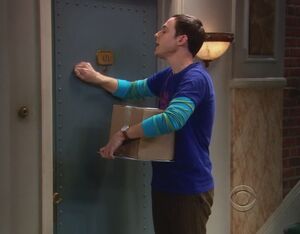 Sheldon has a particular door knock ritual when alerting someone to his presence outside their door. Due to his obsessive compulsive tendencies, he must finish his knock, even if the person he's alerting opens the door before he is finished, in which case he will usually finish it on the door frame.
His knock consists of three knocks before stating the person's name, and then he repeats this process twice:
This knock is mostly associated with his trips to Penny's apartment across the hallway, but is his general knock for any character in the series. Sheldon will also use this knock on the wall above someone's head if he enters their bedroom and is going to wake them up. Sheldon appears to be able to suppress his compulsive knocking ritual temporarily, For example, when he broke up with Amy, he knocked once so she would not assume it was him, then finishing his knock on a table outside her apartment after the conversation ended.
Origins
In the episode "The Hot Tub Contamination", the origins of this knocking ritual are revealed.
When he was thirteen years old, he once came home because they ran out of math to teach him. His mother was at a Bible study. He walked in the house expecting it to be empty and heard a sound from his parents' bedroom. When he opened the door, he saw his father having relations with Brenda Sparks. It's why he never opens a door without knocking three times. The first one is traditional, but two and three are for people to get their pants on.
Series Development
The first time we see Sheldon knock on someone's door was in the second episode of the first season called "The Big Bran Hypothesis", and due to the infancy that the series was in, Sheldon's knock was nothing unusual. It wasn't until episode ten ("The Loobenfeld Decay") that his knock had become unique. Sheldon's signature knock has gone through several changes in the series before his signature knock was created.
The earliest version of his signature knock was shown in "The Loobenfeld Decay". This featured three or four knocks before saying the person's name, and it continued until they answered. In this episode, it was on Leonard's and Penny's doors. His current knock (three knocks and the name; three repetitions) officially caught on in "The Euclid Alternative" and became his signature knock with few exceptions in which he varied it throughout the series.
In-universe, Sheldon's earliest time to have used this knock was in the flashback episode "The Staircase Implementation", which takes place before the start of the series. It's unclear if his knock was actually different at this time, because the only scene it's featured in depicts it slightly different, being slower. This difference could have been due to the situation of in which he used it.
In "The Habitation Configuration", Sheldon is drunk and knocks on Wil Wheaton's door two times instead of three, then later corrects himself by knocking again in the middle of his conversation.
Sheldon's knock used by others
Throughout the series, Sheldon Lee Cooper's knock has been mimicked by other characters as either a parody or to make the person behind the door think it is Sheldon doing the knocking:
Episodes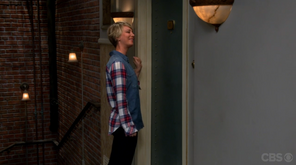 Trivia