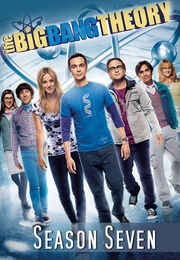 The seventh season of The Big Bang Theory was confirmed on January 12, 2009, alongside Seasons 5 and 6. It started airing on September 26, 2013 on CBS in the United States and Canada, and October 14th, 2013 in Australia. It aired in the UK on October 31, 2013 on E4.
As of September 2013, it has been announced that the series will be renewed for an eighth season. The cast is beginning salary negotiations for future seasons.
Due to contractual obligations, the three main cast members (Parsons, Galecki, and Cuoco) will receive $350,000 per episode in the seventh season, increasing their salaries an additional $50,000 per episode from season 6.
The writers began working on Season 7 in mid-June. The filming of season seven episodes began August 20, 2013. (tvtickets.com)
The season premiere in the US and Canada included two thirty minute episodes back to back both broadcast on September 26, 2013.
As of March 2014, The Big Bang Theory has been renewed for a further three seasons. Taking the total number of seasons, current and future, to ten seasons. This news was celebrated by an Instagram post from Kaley Cuoco of a picture of her and her co-stars Johnny Galecki and Jim Parsons (http://instagram.com/p/lcvNPJuWaR/)
In Season 7, Penny is concentrating on her career trying to make acting a full-time activity and Amy is pushing Sheldon deeper in their relationship.
Cast
Episodes
Episode (Series)
Episode (Season/Ep#)
Title
Original Air Date
Directed By
Description
136
701
The Hofstadter Insufficiency
September 26, 2013
Mark Cendrowski
Sheldon and Penny bond at home over missing Leonard, while Amy and Bernadette bond while at a biology conference. Raj tries to meet women since he can now talk to them, while Leonard was having such a great time on the North Sea that he doesn't appear to be missing Penny.
137

70

2
The Deception Verification
September 26, 2013
Mark Cendrowski
Leonard returns early to spend time with Penny making Sheldon mad at him. Howard has some bad side effects from treating his mother with an estrogen rub down.
138

70

3
The Scavenger Vortex
October 3, 2013
Mark Cendrowski
The gang goes on Raj's scavenger hunt. Things get competetive and Howard and Amy bond over Neil diamond
139

70

4
The Raiders Minimization
October 10, 2013
Mark Cendrowski
Beverly Hofstadter writes a psychology book about Leonard which Penny buys and reads. Sheldon wants to ruin something for Amy after she ruined the Raiders of the Lost Ark movie for him. Raj and Stuart try online dating.
140

70

5
The Workplace Proximity
October 17, 2013
Mark Cendrowski
Amy starts working at Caltech which causes friction with Sheldon after Howard mentions that he wouldn't want to work with Bernadette. Sheldon leaks his comments to Bernadette causing a big fight for the Wolowitzes.
141

70

6
The Romance Resonance
October 24, 2013
Mark Cendrowski
Sheldon makes an amazing discovery only to shoot himself down when he finds that he was in error. After Howard writes a song for Bernadette, Penny mulls over making a romantic gesture for Leonard.
142

70

7
The Proton Displacement
November 7, 2013
Mark Cendrowski
After Professor Proton asks Leonard to read a paper of his, Sheldon is jealous and brings in Bill Nye, the Science Guy. Raj and the girls have a jewelry making party.
143

70

8
The Itchy Brain Simulation
November 14, 2013
Mark Cendrowski
Penny finally meets Lucy and gets mad at her for breaking up with Raj. Raj has closure and meets with Lucy who is now seeing someone else. Leonard has a fight with Sheldon and has to wear an itchy red sweater after he makes a "major" indiscretion. 
144

70

9
The Thanksgiving Decoupling
November 21, 2013
Mark Cendrowski
Sheldon protests when the gang drags him to Mrs. Wolowitz's house for Thanksgiving. Penny has to deal the fact that she is married to Zack. 
145
710
The Discovery Dissipation
December 5, 2013
Mark Cendrowski
Wil Wheaton helps Sheldon deal with his new found celebrity status, while Leonard's work completely disproves Sheldon's discovery. Raj gets in trouble by giving the other guys and girls romantic advice.
146
711
The Cooper Extraction
December 12, 2013
Mark Cendrowski
While Sheldon is off in Texas when his sister's baby is due, Amy gets them thinking about their lives if they never met Sheldon. 
147
712
The Hesitation Ramification
January 2, 2014
Mark Cendrowski
Penny loses her big acting chance and then asks Leonard an important question. Raj and Stuart try to improve their banter with women.
148
713
The Occupation Recalibration
January 9, 2014
Mark Cendrowski
After reconsidering her career choices, Penny quits her waitress job to concentrate on acting. Amy finds herself with a date that is not with Sheldon. Bernadette accidentally destroys one of Howard's comics. 
149
714
The Convention Conundrum
January 30, 2014
Mark Cendrowski
After the guys can't get tickets to Comic Con, Sheldon tries to set up his own convention and approaches Darth Vader (James Earl Jones) to be a panelist. The girls go to a hotel for tea and talk about maturity. 
150
715
The Locomotive Manipulation
February 6, 2014
Mark Cendrowski
For Valentine's Day Amy takes Sheldon on a romantic weekend to Napa Valley onboard a vintage train. Leonard and Penny watch Cinnamon for Raj and end up taking her to the veterinarian|vet.
151
716
The Table Polarization
February 27, 2014
Gay Linvill
Sheldon is unhappy when Penny wants to get a dining room table for his apartment to end eating meals around the low coffee table. Howard decides that he wants to return to space. When it is pointed out that Amy had changed him, Sheldon decides to break up with her.
152
717
The Friendship Turbulence
March 6, 2014
Mark Cendrowski
Bernadette tries to decrease the amount of friction in Howard and Sheldon's friendship. Penny's car breaks down and she is afraid she will have to return to The Cheesecake Factory. Raj asks Amy to help him talk to a girl he met online.
153
718
The Mommy Observation
March 13, 2014
Mark Cendrowski
While Raj is having a murder mystery party in Pasadena, Howard and Sheldon get their tour of NASA in Houston and then drop in unexpectedly at Sheldon's mother who was not expecting company.
154
719
The Indecision Amalgamation
April 3, 2014
Anthony Rich
Penny gets an offer to be in the sequel to Serial Ape-ist and can't decide whether to take the job. Sheldon is being indecisive on which new video game system to buy driving Amy crazy. Raj actually finds himself with two girls to date after he runs into Amy's friend Emily and gets a note from Lucy.
155
720
The Relationship Diremption
April 10, 2014
Mark Cendrowski
Sheldon is depressed over his lack of progress in his twenty years of work on string theory. Howard and Bernadette go out with Raj and Emily and Emily remembers an earlier embarrassing experience with Howard.
156
721
The Anything Can Happen Recurrence
April 24, 2014
Mark Cendrowski
The couples are split up into different groups after Amy and Bernadette lie about having dinner together.  Penny and Sheldon have dinner together and Penny takes him to a psychic. Raj and Howard watch a horror movie that Emily wants to see.
157
722
The Proton Transmogrification
May 1, 2014
Mark Cendrowski
Sheldon and Leonard deal with the death of Professor Proton, while the guys are getting ready for Star Wars Day. At the funeral, Leonard and Penny discuss their attempts at proposing to each other.
158
723
The Gorilla Dissolution
May 8, 2014
Peter Chakos
Penny gets fired from her movie and takes a serious look at her life which results in her engagement to Leonard. Raj sees Emily on a date with another man at the movies. Howard and Bernadette have to take care of his mother after she breaks her leg.
159
724
The Status Quo Combustion
May 15, 2014
Mark Cendrowski
Sheldon gets upset about his career, the destruction of the comic book store, and Penny and Leonard's future living arrangements. Howard and Bernadette can't keep a care giver for Mrs. Wolowitz.
Gallery
Spoilers
Further 24 episodes, adding the total amount of episodes for the entire series up to 159. (Season trend)
Raj started to get the ability to talk to women late this season, but he was not be very good at it.
Amy continued to push Sheldon toward a physical relationship. The writers stated in a recent interview: "It's always a possibility for them to eventually have sex." (Season trend)
Even though Penny and Sheldon became closer in this season, Amy did not get jealous. She does not see Penny as a threat though, she was jealous of her friendship with Sheldon. (Season trend)
The writers still haven't decided which of the guys got tenure at work, but we shall find out in the future. (Season trend)
Leonard started out the season still on Stephen Hawking's expedition ("on the boat"), but returned quickly after the season starts. (aired, S7E02)
Penny missed Leonard much more than he missed her. (aired, S7E01)
Bernadette and Amy took a trip together without Penny in the first episode. (aired, S7E01)
Penny and Sheldon became closer during Leonard's absence, but the relationship will stay strictly brother/sister. The writers said Penny is a "motherly figure" to Sheldon. (aired, S7E01)
Leonard enjoyed his time on the boat and took his separation from Penny well. (aired, S7E01)
Regina King made another guest appearance in the first episode as Mrs. Davis. (aired, S7E01)
Amy and Howard spent alone time together for the first time. (aired, S7E03)
Leonard's mother returned in the fourth episode via a Skype call. (aired, S7E04)
Sheldon told some of Amy's colleagues that they had a good relationship and that he spanked her before. (aired, S7E05)
Albert Einstein made a guest appearance in one of Sheldon's dreams. (Filmed for S7E06, but cut when aired)
Sheldon had a big break through in his work that lifts him to another level and he had to deal with it, which he's not comfortable with. It's not exactly what he had been hoping for. (aired, S7E06 and S7E10)
Bob Newhart returned as Professor Proton in two episodes. (one have been aired in S7E07; another filmed) Professor Proton and Leonard and Bill Nye the Science Guy and Sheldon teamed up and face off against each other. (aired, S7E07)
Penny set Raj up with one of her friends, Lizzie, after she confronted his ex-girlfriend, Lucy. (aired, S7E08)
Per a writers' room photo, there was be a holiday episode listed as "Happy Thanksgiving, Hard"; different final title. (aired, S7E09)
Penny found out that she was married to Zack before but she didnt know until Leonard pointed it out. (aired, S7E09)
Carrie Fisher and James Earl Jones from the Star Wars franchise made a guest appearance together. (aired, S7E14)
The Valentine's Day episode took place on a train. (aired, S7E15)
There was a Shamy kiss. (aired, S7E15)
Mary Cooper returned when Sheldon visited her. (aired, S7E18)
Professor Proton passed away and Leonard attended his funeral alongside Penny. (aired, S7E22)
Leonard and Penny got engaged. (aired, S7E23)
Stuart's comic store burned down, while Sheldon left on a soul-searching journey. (aired, S7E24)
This is the first season to have Melissa Rauch and Mayim Bialik present for all episodes.
Community content is available under
CC-BY-SA
unless otherwise noted.