We're Getting Mutants in the MCU - The Loop
Play Sound
Season 12 is the end of The Big Bang Theory.
On Tuesday, March 21, 2017, it was announced that The Big Bang Theory would be renewed for two more seasons after Season 10, which means there is a Season 11 and a Season 12.[1] It was thought that Season 12 would be the last TBBT season due to comments by the cast members. CBS confirmed that Season 12 is the last season.[2] It premiered on Monday, September 24, 2018, and the series two episode finale aired on Thursday, May 16, 2019.
Cast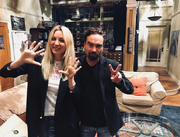 Episodes
| Episode (Series) | Episode (Season/Ep#) | Title | Original Air Date | Directed By | Description |
| --- | --- | --- | --- | --- | --- |
| 256 | 1201 | The Conjugal Configuration | September 24, 2018 | Mark Cendrowski | The Coopers are on their honeymoon in New York City, the Hofstadters find Larry Fowler hiding in Shamy's apartment and Raj has a Twitter fight with Neil deGrasse Tyson, which also gets Bill Nye involved. |
| 257 | 1202 | The Wedding Gift Wormhole | September 27, 2018 | Mark Cendrowski | Stuart gets the nerve up to ask Denise out on a date, Leonard and Penny give Sheldon and Amy a strange wedding gift and Raj asks his father to find a wife for him. |
| 258 | 1203 | The Procreation Calculation | October 4, 2018 | Mark Cendrowski | The Wolowitzes' life gets complicated when Stuart starts bringing his new girlfriend home. Also, Penny and Leonard talk about starting a family while Koothrappali explores an arranged marriage. |
| 259 | 1204 | The Tam Turbulence | October 11, 2018 | Mark Cendrowski | When Sheldon won't tell anyone why he's never mentioned Tam, his childhood best friend, Leonard takes matters into his own hands. Also, Bernadette and Penny take out Raj's fiancée, Anu, for dinner to get the skinny on her. |
| 260 | 1205 | The Planetarium Collision | October 18, 2018 | Mark Cendrowski | When Amy doesn't have time to work on Super-Asymmetry, Sheldon goes to great lengths to ensure she's available to work with him even it if means accidentally sabotaging her career in the process. Also, Raj doesn't want Howard to join him in hosting a show at the planetarium. |
| 261 | 1206 | The Imitation Perturbation | October 25, 2018 | Mark Cendrowski | When Wolowitz dresses up as Sheldon for Halloween, Sheldon seeks retaliation at Leonard and Penny's Halloween party. Also, Leonard is shocked that Penny doesn't remember their first kiss. |
| 262 | 1207 | The Grant Allocation Derivation | November 1, 2018 | Mark Cendrowski | Leonard is caught between a rock and a hard place when he's responsible for distributing extra grant money. Also, Bernadette turns the backyard playhouse into a hideaway from her husband and kids. |
| 263 | 1208 | The Consummation Deviation | November 8, 2018 | Mark Cendrowski | Sheldon tries to bond with Mr. Fowler, but when Wolowitz lures Mr. Fowler away with magic tricks, Sheldon has no choice but to bond with Mrs. Fowler. Also, Raj and Anu to get physical for the first time. |
| 264 | 1209 | The Citation Negation | November 15, 2018 | Kristy Cecil | Leonard researches citations for Sheldon and Amy's paper. He finds a Russian paper that basically discredits super-asymmetry. Bernadette tries to beat Howard and Raj at Fortnite, and recruits help from Denise. |
| 265 | 1210 | The VCR Illumination | December 6, 2018 | Mark Cendrowski | Sheldon and Amy are still down about their theory being disproved, but a VHS tape from Sheldon's past inspires him not to give up. Also, Bernadette turns into a pageant mom when she tries to help Wolowitz ace his Magic Castle audition. |
| 266 | 1211 | The Paintball Scattering | January 3, 2019 | Mark Cendrowski | Penny and Leonard organize a paintball game that results in mayhem when Sheldon is jealous of Amy. Also, Raj catches Anu with her ex-boyfriend, and Stuart doesn't want to move in with Denise. |
| 267 | 1212 | The Propagation Proposition | January 10, 2019 | Mark Cendrowski | Penny's ex-boyfriend, Zack, and his wife want a baby, but when Zack is infertile, they ask Leonard for help. Also, Raj attempts to mend things with Anu. |
| 268 | 1213 | The Confirmation Polarization | January 17, 2019 | Mark Cendrowski | When Sheldon & Amy's super-asymmetry theory is proven by two physicists, Dr. Pemberton & Dr. Campbell from Chicago, they're thrilled, until they try to kick Amy off the Nobel Prize nomination. Also, Bernadette has a big success at work and Penny's going to be a part of it, whether she wants to or not. |
| 269 | 1214 | The Meteorite Manifestation | January 31, 2019 | Mark Cendrowski | Sheldon helps the Wolowitzes with some paperwork until he finds them in an illegal venture. Leonard is excluded from a scientific project. |
| 270 | 1215 | The Donation Oscillation | February 7, 2019 | Mark Cendrowski | Penny tries to seduce an abstaining Leonard to ruin his "donation" for her ex-boyfriend, Zack, and his wife, Marissa. Howard, Raj, and the girls turn the canceled bachelor party in a trip aboard the "Vomit Comet". |
| 271 | 1216 | The D & D Vortex | February 21, 2019 | Mark Cendrowski | When the gang finds out Wil Wheaton hosts a celebrity Dungeons and Dragons game involving William Shatner, Joe Manganiello, Kareem Abdul-Jabbar and Kevin Smith, deception and betrayal are the path to make it to the one open seat. |
| 272 | 1217 | The Conference Valuation | March 7, 2019 | Mark Cendrowski | Bernadette and Penny go off to a conference while Howard is left watching their kids. Sheldon gets into doing experiments on the Wolowitz children. |
| 273 | 1218 | The Laureate Accumulation | April 4, 2019 | Mark Cendrowski | Sheldon and Amy are still fighting for recognition of their Super-Asymmetry theory while their rivals are on a media tour. Bernadette wants to write a children's book about Howard's trip to outer space and him over coming his fears. |
| 274 | 1219 | The Inspiration Deprivation | April 18, 2019 | Mark Cendrowski | The concept of what it'd mean for women everywhere if Amy were to win a Nobel Prize causes Amy to have a meltdown. Also, Koothrappali & Wolowitz try to relive the good old days after Wolowitz buys a Vespa scooter that looks like the one he had years ago. |
| 275 | 1220 | The Decision Reverberation | April 25, 2019 | Mark Cendrowski | Koothrappali is worried people won't take him seriously in his own field after publishing a paper that suggests he may have discovered alien life. Also, Leonard wants to be the principal investigator on a plasma physics study. |
| 276 | 1221 | The Plagiarism Schism | May 2, 2019 | Nikki Lorre | Sheldon and Amy discover Pemberton likes to mooch off others' work instead of doing things on his own, but Penny and Leonard take the whistleblowing into their own hands which fails and then goes to Dr. Campbell for swift resolution. The Cheesecake Factory make a late series return as Bernadette tells Howard that another waitress had a crush on him but that she herself made sure that didn't go any farther, and Howard tries to find out who it was. |
| 277 | 1222 | The Maternal Conclusion | May 9, 2019 | Kristy Cecil | Leonard is pleasantly surprised when Beverly comes to visit and she's genuinely kind to him, until he finds out the real reason she's there. Also, Denise and Stuart overstay their welcome at the Wolowitz House. |
| 278 | 1223 | The Change Constant | May 16, 2019 | Mark Cendrowski | Sheldon and Amy await big news, Sheldon has to deal with the attention and Amy decides to make some changes. |
| 279 | 1224 | The Stockholm Syndrome | May 16, 2019 | Mark Cendrowski | Howard and Bernadette leave their kids for the first time, Leonard and Penny try to keep a secret, Sheldon and Amy stick together, & Raj makes a new friend as the gang travels together toward an uncharted future |
Trivia
Amy's parents returned to appear again this season after they attended Sheldon and Amy's Wedding. It has been confirmed they would appear in an episode this season. They appeared in the premiere episode.[3] They reappeared on the eighth episode as well, in which contrasting with Sheldon bonding with Howard's father-in-law, Howard bonded with Sheldon's father-in-law.
Penny's father, Wyatt, reappeared in the third episode.[4] He made his last appearance in the fifteenth episode.
Amy and Sheldon have their only year as a married couple onscreen.
Tam Nguyen appeared in an episode this season (episode four) and Sheldon revealed where he was the past 11 seasons. He is played by Robert Wu.
Mary Cooper never appeared in Season 12, yet was mentioned many times.
Sheldon and Amy's honeymoon was confirmed to be happening in the premiere episode.
On August 22, 2018, CBS announced that Season 12 was going to be the final season.
Neil deGrasse Tyson and Bill Nye both appeared in the premiere episode.
Last call for The Big Bang Theory! Jim Parsons pulled the plug after declining a 50 million dollar deal.
Bert Kibbler appeared in the second, sixth, fourteenth and series finale episodes.
V. M. Koothrappali made his last appearances in the second and twelfth episodes.
Denise appeared in the 2nd, third, ninth, eleventh, fourteenth and twenty-second episodes.
Sheldon and Amy honeymooned in New York and at LEGOLAND.
Stuart and Denise started dating in the second episode.
Leonard and Penny discussed having children in the third episode and decided not to have any. However, the series finale has them with a treat.
Bob Newhart's last appearance in episode five as Professor Proton's spirit.
Jerry O'Connell returned as Sheldon's brother George Cooper Jr. in episode four.
President Siebert appeared in several episodes.
Chuck Lorre announced that two episodes had been aired as the series finale.[5]
Penny and Leonard Hofstadter decided not to have kids and will become a cool uncle and aunt to Howard and Bernadette's children, but they had a surprise by series end.
Barry Kripke appeared in his last four episodes saying goodbye to the fans alongside Caltech, President Siebert and The Cheesecake Factory just before the remaining characters followed.
Raj was set up in an arranged marriage to a woman named Anu. They become engaged in the third episode, but stopped the wedding to date for a while.
Raj and Anu had set their wedding date for Valentine's Day 2019, but it was called off in the "The Paintball Scattering". The couple decided to rekindle their romance in "The Propagation Proposition"
A crossover of sorts with "Young Sheldon" happened in December, as the younger versions of Sheldon (Iain Armitage), Georgie (Montana Jordan), and their father George Sr. (Lance Barber) guest starred in "The VCR Illumination" appearing on a thirty-year-old VHS tape.[6]
Christine Baranski made her last appearances as Beverly Hofstadter in the tenth, seventeenth and twenty-second episodes.
Zack Johnson reappeared in the twelfth episode, along with his new wife Marissa. They wanted to have a baby, but needed a sperm donation since Zack was infertile. They made their last appearance in the fifteenth episode.
The Super-Asymmetry discovery is confirmed and will be submitted for a Nobel Prize per "The Confirmation Polarization", but Amy was being kicked off the team.
William Shatner made a guest appearance in the sixteenth episode with Kareem Abdul-Jabbar, having a Dungeons and Dragons game. Said episode is Wil Wheaton's and Dungeons and Dragons last.
Penny reveals her sister's name in the fifteenth episode, which is Lisa.
Leonard decided not to go through with the sperm donation for Zack.
In the penultimate episode, the elevator is fully repaired and functional.
In the series finale, it's revealed that Penny is pregnant.
Sarah Michelle Gellar made a cameo appearance in the series finale and was a guest at the Nobel Prize ceremony. 
Gallery
Videos
References