Wiki Targeted (Entertainment)
Play Sound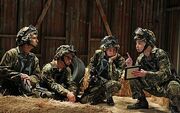 Paintball is a game played by the main characters. The sport makes occasional appearances on the show, in one episode Howard and Leslie Winkle participated in sexual activity twice in the shed. In the same episode, Penny accidentally shoots Sheldon's Seat on the couch with a gun, and when they decide to invite Penny along, Sheldon takes revenge by shooting her, leading to an argument.
Sheldon then sacrificed himself for his team. The gang went celebrating their victory and then Sheldon pointed out that he promoted himself to the rank of major before he was "killed."
In "The Cooper-Nowitzki Theorem", Sheldon's obsessed helpmate Ramona Nowitzki won't let Sheldon play paintball so that he'll work on his science.
In "The Paintball Scattering", the Coopers, Stuart and Denise and Raj and Anu are all arguing and it's the Wolowoitzes who have sex in the shed.
In "The Middle-Earth Paradigm", Penny on the way to work runs into the guys returning from the paintball activities and she invites them to her Halloween party.
External Links