House of the Dragon Trailer - The Loop
Play Sound
Melissa Ivy Rauch (born June 23, 1980, Marlboro, New Jersey) is an American actress and comedian best known for her role as Bernadette Rostenkowski on the CBS sitcom The Big Bang Theory.
Early life and Education
Rauch was born in a Jewish family in Marlboro, New Jersey. She has a Bachelor in Fine Arts in Acting from Marymount Manhattan College. 
Career
While studying, Melissa performed as a stand-up comedian around Manhattan and soon made a name for herself on the New York City comedy scene with critically acclaimed appearances like her one-woman show called "The Miss Education of Jenna Bush," in which she portrayed the George W. Bush|former President's daughter which played to sold-out audiences. She's only 4'11.
In 2009, Rauch played the recurring role of Bernadette on The Big Bang Theory, the girlfriend of Howard Wolowitz. Beginning in 2010, during the fourth season of the show, she was promoted to a series regular and at the end of the fifth season she married Howard and became the second Mrs. Wolowitz.
In July 2014, Melissa filmed "The Bronze (film)|The Bronze," which she co-wrote with her husband Winston. The comedy film centers around her character, Hope Annabelle Greggory, a foul-mouthed former gymnastics bronze medalist who must fight for her local celebrity status when a young athlete's star rises in her hometown. The movie was filmed in several locations in Ohio, and is scheduled for a limited theatrical release in the U.S on March 18, 2016, by Sony Pictures Classics.
A speculation in May 2016, that she is pregnant for real and this has been scripted into the show as Bernadette's pregnancy, has been refuted by Melissa herself, who revealed that she rang her grandparents to advise them of the new development for her TV character and that they were not to leap to conclusions. You're only gonna be TV grandparents! On December 4, 2017, she gave birth to a baby girl named Sadie. On March 4, 2020, she gave birth to a baby boy named Brooks.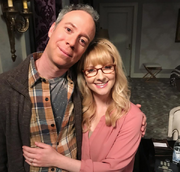 Filmography
Gallery
External links