Doctors and nurses who had to deal with the extremely bright scientists who frustrated them, especially Sheldon.

Nurse Althea Davis Vernee Watson who showed up in five episodes at a sperm bank, in the emergency room, a floor nurse and in Bernadette's delivery room.
Monica Garcia as Maria in The Status Quo Combustion the nurse that was taking care of Mrs. Wolowitz.
Christopher Neiman as Dr. Dreyfus in The Table Polarization who examined Howard for his fitness to return to space.
Phil Abrams as Dr. Bernstein in The Engagement Reaction who was the doctor in the emergency room when Mrs. Wolowitz had food poisoning.
Sharon Omi as Nurse in The Engagement Reaction who was the nurse who was in the biohazard suit when Sheldon walked into their quarantine unit.
Cat Hammons as Nurse in The Proton Regeneration.
Dana L. Wilson as Nurse in The Explosion Implosion who was the nurse who told Howard and Bernadette that their second child was going to be a boy.
Jim Meskimen as Doctor in in The Troll Manifestation.
Ken Lerner as Dr. Schnieder in The Re-Entry Minimization as the Wolowitz dentist seen seeking out of Howard's house.
Jane Kaczmarek as Dr. Gallo in The Sales Call Sublimation as the psychiatrist who talks to both Leonard and Penny.
Billy Bob Thorton as Dr. Lorvis in The Misinterpretation Agitationas the nerdy doctor who courts Penny and is a big collector of sci fi memorabilia.
Tania Raymonde as Yvette in The Locomotive Manipulation as the vet who treats Cinnamon and gives Raj her phone number.
Troy Winbush as Paramedic in The Proton Resurgence.
Ian Reed Kesler as Paramedic #1 in The Proton Resurgence who picks up Professor Proton.
Brooke Dillman as Bebe in The Inspiration Deprivation who is the technician running the sensory deprivation laboratory.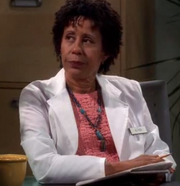 Community content is available under
CC-BY-SA
unless otherwise noted.