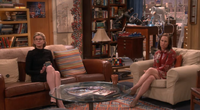 The Mary-Beverly War is a war/disagreement between Mary Cooper and Beverly Hofstadter, the mothers of Sheldon Cooper and Leonard Hofstadter. It's the fact that the two women are very different from each other and have different parenting styles. The war began in 2015 in "The Maternal Combustion" when the mothers met and clashed over each other's beliefs and different personalities.
Season 8
Beverly and Mary meet in "The Maternal Combustion" the penultimate Season 8 episode when they visited Pasadena to see their sons get an award. Their relationship started out as civil, but later the two women started fighting when Beverly insulted Mary's religious beliefs and Mary in return berated Beverly for her cold and distant attitude towards Leonard. Later on, however, they made up and Beverly tried unconditional love by trying an awkward hug with Leonard.
Season 9
However, after the events of their first meeting, it turns out that this peace does not last. Mary and Beverly meet again in the Season 9 finale episode "The Convergence-Convergence" when they are to attend Leonard and Penny's re-wedding ceremony and the events of their war in this episode surpass the events of their previous war during their first meeting: Mary meets Alfred Hofstadter who is Beverly's ex-husband and Leonard's father and the two end up bonding over their mutual dislike of Beverly and their interests in each other's beliefs. Later at the restaurant, they fight again after Alfred attempts to give a toast to Leonard and Penny and is interrupted by Beverly and the exes bicker and when Mary attempts to calm down the atmosphere by telling everyone to remember what it says in the Bible: "He who is slow to anger is better than the mighty.", Beverly then rudely asks Mary if she could please read another book and Mary angrily answers to Beverly "When God writes one, I will.". Later, it appears that Alfred and Mary are hooking up, much to Leonard and Sheldon's discomfort and Penny's delight.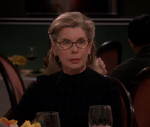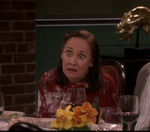 Community content is available under
CC-BY-SA
unless otherwise noted.