Wiki Targeted (Entertainment)
Play Sound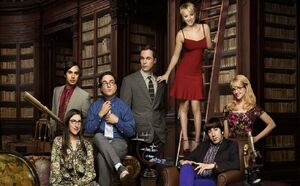 The following is a list of characters from the American situation comedy The Big Bang Theory created and executive produced by Chuck Lorre and Bill Prady, which premiered on CBS on September 24, 2007 and concluded on May 16, 2019. It concerns two prodigies in their 20s, one a theoretical physicist and the other an experimental physicist, who work at Caltech and live across the hall from a waitress with show-biz aspirations. Their geekiness and intellect are contrasted by her social skills and common sense.
Main characters
Regular
Recurring characters and Minor characters
These characters appear in two or more than two episodes, either frequently or less frequently. The list is sorted by chronological order of appearance, considering their first appearance in the show.
Introduced in Season 1
Althea (Vernee Watson): A character that made an appearance in the Pilot as an attendant at a sperm bank, and then made two appearances as a emergency room nurse in The Peanut Reaction episode (season 1), and The Robotic Manipulation episode (Season 4) and one other appearance as a ward nurse in The Werewolf Transformation episode (Season 5). The name of the character is never used on the show, only on her name tag and in the credits.
Kurt (Brian Patrick Wade): A tall, muscular intimidating bully, Kurt is Penny's ex-boyfriend at the beginning of the series. In the pilot episode Leonard and Sheldon went to his apartment and tried to retrieve Penny's TV set from him, but they did not succeed and returned home without pants.[8] Penny left him because he cheated on her, but he was still invited to her Halloween party.[1] When Penny experienced financial difficulties, Leonard and the guys tried to convince Kurt to pay Penny back money he owed her; at first Kurt refused, but eventually he paid Penny back to date her again.[9]
Dr. Eric Gablehauser (Mark Harelik): The head of the Physics Department, Dr. Gablehauser is the guys' boss at the university. In his first appearance, he fired Sheldon after Sheldon insulted his intelligence. Eventually, Sheldon was rehired because Gablehauser became romantically interested in Mary Cooper, Sheldon's mother. Gablehauser referred to Sheldon, Leonard and Rajesh as doctors, but to Howard as "mister" because he lacks a Ph.D (but carries a Masters Degree).[10] Dr. Gablehauser was also responsible for introducing child genius Dennis Kim to the university[11] and for hosting the Physics Bowl.[12]
Mary Cooper (Laurie Metcalf): Sheldon's loving and caring mother and a devout Christian from Texas. She is a church worker and also has two other children besides Sheldon; Sheldon's fraternal twin sister, Missy and his brother George Jr., who is shown via a family tree in "The Cruciferous Vegetable Amplification" to be three or four years older than Sheldon and Missy (depending on birth month and year). She first appeared in the fourth episode of the first season and had also appeared in the season three premiere, the third episode of season four, the sixth episode of season 5, the eighteenth episode of season 7, the pre-ultimate episode of season eight, the season nine premiere and the season nine finale, and was heard in the eleventh episode of season 7. Mary herself is not intellectual but is very wise; she appears to be an extremely good mother and is the only one who has ever been able to control Sheldon, although Bernadette can as well. She twice came to Pasadena when Sheldon had lost it and once when she was taking a cruise out of LA. Sheldon has also run back to Texas where his mother convinced him to return and once to surprise her and Sheldon could her having sex. Leonard described Mary as Sheldon's "Kryptonite". When Penny and Sheldon engaged in a fierce dispute, Penny called for Mary's help, who subsequently called and scolded Sheldon about his actions.[13] Mary meets Beverly Hofstadter and their personalities clash, once in season 8 and once again in season 9. She also meets Leonard's father Alfred Hofstadter in the season 9 finale where Sheldon invites her to Leonard and Penny's re-wedding and the two of them bond over their mutual dislike of Beverly and their interest in each other's beliefs and they get along great during dinner and it is implied that the two hook up, until the next episode (The season 10 premiere: "The Conjugal Conjecture") where it is revealed that they didn't sleep together, but plan on continuing to see each other in the future. Mary reappears in the Season 11 finale at Sheldon and Amy's wedding.
Chen (James Hong): The owner of a Chinese restaurant the guys frequently visit. He thinks of Howard as the other guys' annoying little friend who thinks he speaks Mandarin. In "The Tangerine Factor", Sheldon tries to communicate with him in Mandarin after learning some from Howard, but actually ends up insulting Chen. Leonard and Penny walk in and see all the angry talk and quickly leave the restaurant.
Debbie Melvina Wolowitz (voiced by Carol Ann Susi): Howard's overbearing, over-protective, controlling, belittling, but loving and caring stereotypical Jewish mother, she is never seen on-screen but her voice is heard when he is at their house or when he talks to her on the phone. She talks to Howard always by yelling at him from another room, which results in awkward conversations with Howard yelling back at her. Debbie seems to be oblivious about Howard's work as an engineer, and talks to him like he is still a child. She frequently refers to Leonard, Sheldon and Raj as Howard's "little friends" when yelling to him (as in, "I made some cookies, do you and your little friends want some?") She makes Howard's life miserable at home, which prompts him to call her a "crazy old lady." However, in one episode, Howard attempted to move out, but had serious delusions that his mother was trying to force him to stay, when in actuality she was urging him to move out, so he stayed, but despite problems, Howard is deeply attached to his mother and quite happy to be treated like a child. However, in one episode, Howard attempts to move out after a fight with his mother, but has serious delusions that she is trying to force him to stay, when in actuality, she is urging him to move out, which leads to him staying. It is also mentioned that she is on hormone replacement therapy and she wants to "play doctor" with Raj when he asks to sleep over. In the Season 7 finale (The Status Quo Combustion) Stuart called Mrs. Wolowitz "Debbie" so this is her real name. In Season 8, she died, taking a nap and never waking up afterwards. After her death, Howard and Bernadette move back in and Stuart continues,living with them until he moves out in Season 9's "The Sales Call Sublimation", but moves back in during Season 10. Her granddaughter Halley cries like her.
Dr. V.M. Koothrappali (Brian George) and Mrs. Koothrappali (Alice Amter): Raj's parents in India, they communicate with their son via video chat and constantly try to arrange dates for him. They want their son to marry a woman of Indian descent, and give them grandchildren.[14] Mrs. Koothrappali is especially worried that, despite Raj being old enough to marry, the closest they have to a daughter-in-law is "that Jewish boy", Howard.[15] Although in many episodes Raj mentions that he grew up in poverty, his friends remind him of the contrary by pointing out that Dr. Koothrappali is a gynecologist and drives a Bentley.[16] The Koothrappalis enjoy Doogie Howser reruns, which are apparently new to India.[14][16] In season 8, they were divorced. Raj's father is currently the only parent to visit Pasadena. In season 10, Raj called him to give advice to a pregnant Bernadette.
Missy Cooper (Courtney Henggeler): Missy is Sheldon's fraternal twin sister who is intellectually and socially very much unlike him. Confident, tall and attractive, she immediately catches the attention of Leonard, Howard, and Raj. Sheldon realizes that within Missy's eggs lies the potential for another "superior mutation" like him. He temporarily erects himself as a guardian to Missy in order to choose the best mate for her. Missy refers to Sheldon as "Shelly", and despite their differences she loves him and is proud of his accomplishments.[17] In "The Cooper Extraction", she gives birth to a baby boy with Sheldon helping while her husband is recovering from a motorcycle accident. She is only heard screaming once. She did make her second on-screen appearance at Sheldon and Amy's wedding. Missy is currently pregnant with her second child and separated from her husband.
Introduced in Season 2
Introduced in Season 3
Wil Wheaton (portraying a former antagonistic version of himself): In the season 3 episode "The Creepy Candy Coating Corollary", Sheldon enters a card game tournament (Mystic Warlords of Ka'a) to confront Wil Wheaton over an incident that occurred in 1995 when Sheldon was devastated because Wheaton (Wesley Crusher in Star Trek: The Next Generation) failed to show up at a fan convention that Sheldon attended. In the final match, Sheldon is about to defeat his hated rival, but Wheaton lies to him about the reason for missing the convention, and Sheldon throws the game out of guilt. Wil Wheaton makes a second appearance in the episode "The Wheaton Recurrence", where he breaks up Leonard and Penny's relationship in order to win a bowling competition against the main characters. In "The 21-Second Excitation", Wheaton appears at a screening of Raiders of the Lost Ark, in which he uses his celebrity status to go to the front of a long line. This antagonizes Sheldon, as Wheaton and his entourage effectively prevent Sheldon and the guys from attending the screening when the last seat in the theater goes to the person directly in front of them in line. Ultimately, Sheldon steals the prints of the film and Wheaton leads a mob of angry Raiders fans after Sheldon, Howard, Raj and Leonard. In later seasons, Wil apparently has a change of heart in his attitude towards Sheldon when he brings him [Sheldon] his [Wil's] last remaining action figure of himself, mint and signed, to make up for the convention years ago where he was a no-show. Afterwards, Sheldon and Wil become friends, Wil appearing on Sheldon's Fun With Flags web-show and consoling Sheldon over his blunder with a putative new chemical element. Sheldon also has a spat with Wil when the latter has a disagreement with Amy and Sheldon fails to take Amy's side (for want of understanding why he should). A drunk Sheldon then shows up at Wil's house at night to challenge Wil to fisticuffs, but ends up puking in Wil's bushes. Wil seems to not take the whole thing personally. In later seasons, Wil makes a movie (Serial Apeist 2) with Penny, interviews her on his podcast about the movie, interviews Sheldon for a documentary on Mr. Spock with his son Adam Nimoy and attends Sheldon's birthday party. He was at Sheldon and Amy's wedding to officiate the wedding, but gets replaced by Mark Hamill.
President Siebert (Joshua Malina): The president of the California Institute of Technology; he is married and has a teenage daughter. Siebert sends Sheldon on an expedition to the North Pole at the end of Season 2. In Season 4, he organizes a get-together with wealthy donors and faculty in order to garner funds for the university's programs. He urges the guys to make an appearance to schmooze the donors so that they will give to their projects. Seeing Sheldon's behavior toward the donors, he asks that he not appear again. He reappears in the 22nd episode of Season 11 when Sheldon asks him for money.
Zack Johnson (Brian Thomas Smith): A dim-witted, but friendly beefcake-type whom Penny dates after her break-up from Leonard. Leonard invites Penny and him up on the roof to watch their experiment bouncing laser beams off the moon. Zack has no clue what is happening. Later, he and Penny go out on a date; she is so put off at how stupid he is that she runs back to Leonard to have sex, saying that Leonard has ruined stupid guys for her. In a later episode, he runs into Penny and Amy at a restaurant, and Amy becomes physically attracted to him. Unique among Penny's boyfriends, he considers Leonard, Howard, Sheldon and Raj (whom he calls "the science guys") to be "cool" and makes a genuine effort to get to know them. After accompanying them on a trip to the comic book store (he and Raj bond over a mutual fondness for Archie comics), he enters a New Year's Eve costume party with them, portraying Superman in their version of the Justice League. He apparently considers them his friends. He works as the menu designer for restaurants either owned or who employ his father's company to design their menus. More recently, he seems to have befriended Kripke and Stuart as well. Penny and Zack got married in a chapel in Vegas one Thanksgiving and thought the weddings were fake, but they later annulled the marriage in "The Thanksgiving Decoupling" three years later and Zack showed up in Leonard's story on what would've happened to Penny if she and Leonard never met. In "The Fermentation Bifurcation", Penny, Leonard, Howard, Raj and Amy see him again at the wine-tasting house and he takes an interest in Raj's newest companion, Claire. Raj sets him straight. Also, Zack wonders if the guidance system the guys are developing could be use by the military for war causing the guys worries. He also admits that he has always liked Leonard and Penny together, especially after seeing that they got married. He reappeared in "The Cognition Regeneration", to offer Penny a job, which makes Leonard less than thrilled because of the fact that it'd be weird for exes to work together. Zack also announces that he has gotten engaged to a woman named Sarah. In Season 11, he reappeared after the guys were searching for Bitcoin. In Season 12, he reappeared with his new wife Marissa (indirectly revealing that his engagement to Sarah had been called off) where they want to have a baby, but Zack is infertile and so they ask Leonard to be a sperm donor.
Introduced in Season 4
Introduced in Season 5
Introduced in Season 6
Introduced in Season 7
Introduced in Season 8
Dan (Stephen Root): Bernadette's and later also Penny's boss at Zangen. Bernadette arranges an interview for Penny with Dan. The interview goes terribly, but Dan eventually hires Penny when they bond over their shared fear of Bernadette. In "The Champagne Reflection", Penny has Bernadette face up to her bullying ways. Dan is still afraid of her and she yelled at him and his grandson after they lost the three-legged race at the company picnic. His grandson called her the mean kid with the big boobies. Bernadette is horrified when she realizes how everyone perceives her. Her father had taught her to not take any crap, and she can be even cruel with some of her comments without even knowing it. She thought she was the sweetest person she knew and should be in a tree baking cookies like a Keibler elf. She goes to apologize to Dan and finds out that due to his fear of her, they were paying for her daily coffee even after the company stopped doing that and gave her a private toilet on her floor that was meant for everyone. She now feels like she has to leave the company and starts crying. Dan wants her to stop and promises to keep paying for her coffee and then ups it to getting her an espresso machine. Bernadette has found a new way to get what she wants.
Introduced in Season 9
David "Dave" Gibbs (Stephen Merchant): A tall British man who dates Amy after she breaks up with Sheldon. Dave is recently divorced because his wife cheated on him and left him for a French chef. When her friends try to find Amy a date on a dating Mobile app, they see a text message from Dave, and Amy reveals they have already gone out together for coffee. Sheldon is about to propose to Amy for closure when he sees Amy and Dave share a kiss after their date. When Amy and Dave later go out again for dinner (while Penny, Bernadette, and a reluctant Leonard spy on them), he shows an unusual fascination with Sheldon, which discomforts Amy. He considers Sheldon and Leonard to be physics superstars and idolizes them. He later gets an opportunity to meet Leonard and shake his hand after Leonard has to relieve himself whilst spying on their date, and with great excitement, Dave announces that he will never again wash his hand. After Sheldon rejects Amy's proposal that they be a couple again, Amy once again tries dinner with Dave, who goes out of his way to refrain from mentioning Sheldon, knowing how uncomfortable that subject made her previously. Sheldon then suddenly arrives and professes his love to Amy, and the two mend their relationship, leaving Dave to awkwardly excuse himself and invite Sheldon to meet again on his way out.
Claire (Alessandra Torresani): a bartender and writer for a children's science fiction series who Raj and Howard meet in the comic book store. Claire wants to collaborate with Raj on the science portions of a movie script. She is only interested in his help while Raj has visions of marriage and children. After Raj breaks up with Emily, he calls Claire on Valentine's Day; however, she just got back together with her boyfriend. She also calls Raj an 'ass' for breaking up with Emily just before Valentine's Day, although later she asks Raj out for a drink when she again breaks up with her boyfriend. He is then forced to choose between Emily and her and he picks Emily, but it's later revealed that he is now seeing both of them at the same time. She reappears in "The Fermentation Bifurcation", where she goes to a wine tasting with Raj and some of the gang. Claire doesn't seem happy about the fact that Raj is seeing two women at once and at the wine tasting, she almost gets hit on by Penny's ex-boyfriend Zack whom Raj stops when he tells him that Claire is with him. After breaking up with Raj, Claire accepts an invitation from him to come to his apartment where she meets Raj's previous girlfriends and reveals that she is currently in a better relationship. She also reveals that she broke up with Raj because she felt he was too needy.
Dr. Alfred Hofstadter (Judd Hirsch): Leonard's father who is mentioned several times in the series before first appearing in the Season 9 finale "The Convergence-Convergence" where he is invited to Leonard and Penny's re-wedding. He is an anthropologist who once worked with famed British archaeologist Louis Leakey. During his visit for Leonard and Penny's re-wedding, he meets Mary Cooper and the two get along great, bonding over their mutual dislike of Beverly and their interests in each other's beliefs and the two end up fighting with her at the restaurant during the pre-ceremony dinner and the two leave together and after finding out they are staying at the same hotel, they decide to share a cab and it is implied that the two hook up, until the next episode (The season 10 premiere: "The Conjugal Conjecture") where it is revealed that they didn't sleep together, but plan on continuing to see each other in the future.
Introduced in Season 10
Colonel Richard Williams (Dean Norris): An Air Force Officer and Engineer who becomes interested in the guys' invention.
Mrs. Petrescu (Michelle Arthur): A Romanian woman who lives in the building of the Apartment building and is guest at Sheldon and Amy's brunch. Later, Leonard and Penny try and convince her that Leonard should be the president of the building's tenants.
Halley Wolowitz (Pamela Adlon (voiced); Sailah Nicol): Howard and Bernadette's baby daughter who is born in "The Birthday Synchronicity". She is only heard crying and her crying sounds like the way Howard's mother used to shout. She appears onscreen for the first time in the series finale "The Stockholm Syndrome".
Introduced in Season 11
Introduced in Season 12
Anu (Rati Gupta): Raj's ex-fiancée and ex-girlfriend. They were set up into an arranged marriage by Raj's dad, after Raj had been unable to settle with a girl by himself. The wedding was called off in "The Propagation Proposition" when they decided to start their relationship from the beginning. They break up off-screen when she's offered a hotel management position in London and Raj considers leaving to propose to her, but Howard convinces him to wait for the right woman.
Marissa (Lindsey Kraft): Zack's wife and a bookstore employee. She seems just as dull-witted as Zack. In "The Propagation Proposition", she and Zack want to have a baby, but Zack is infertile, so they ask Leonard to be a donor to which Leonard accepts, but later he changes his mind.
Dr. Kevin Campbell (Kal Penn): A Fermi-Lab physicist who confirmed Sheldon and Amy's Super-Asymmetry paper. They would later rebuff his attempts to join them in winning the Nobel Prize.
Dr. Greg Pemberton (Sean Astin): A Fermi-Lab physicist who confirmed Sheldon and Amy's Super-Asymmetry paper and tries to get credit for it, only to be ruined when it turns out that he plagiarizes other people's work.
One-Episode characters
These characters appear in just one episode or in one episode for now until they make more appearances. The list is sorted by chronological order of appearance, considering their first appearance in the show.
Season 1
Christy Vanderbel (Brooke D'Orsay): A friend of Penny from Nebraska, Christy suddenly decided to move in with Penny. Being promiscuous, Christy ends up sleeping with Howard, who in turn invites her to move in with him (and his mother). Debbie and Christy end up having a fight, and the latter leaves.[28]
Lalita Gupta (Sarayu Rao): A childhood acquaintance of Raj, she is now a dental student at USC. Raj's parents set up a date for their son with her. During the date, Raj can only speak to her after drinking an alcoholic beverage (a "grasshopper"). Sheldon insists she bears a remarkable resemblance to Princess Panchali, an Indian princess in a children's story. Eventually, Lalita leaves the obnoxious and drunk Raj to have dinner with Sheldon.[14]
Toby Loobenfeld (DJ Qualls): A research assistant with a double major in Physics and Theater, Toby was used by Sheldon to play his fictional first cousin "Leopold Houston" from Denton, Texas, a character Sheldon invents as part of an elaborate lie told to avoid going to see Penny sing. Cousin "Leo" is a recovering drug addict who ends up cuddling with Penny on the couch, much to the chagrin of Leonard.[29]
Dennis Kim (Austin Lee): Dennis is a 15 year old child prodigy from North Korea whom Dr. Gablehauser hopes to recruit into their Ph.D. program. Dennis and Sheldon have an antagonistic relationship when the former excels Sheldon in every way. The guys make arrangements so Dennis can meet girls of his age and get distracted from his own research. The plan succeeds and Dennis is seen kissing with a girl, no longer an intellectual threat to Sheldon.[11]
Dimitri (Adam Gregor): A Russian man who is the third floor janitor of the University's Physics Department and a former physicist in the former Soviet Union. He appears in "The Bat Jar Conjecture" where Sheldon recruits him, as well as the lady from the lunchroom and her son or butcher as part of his Physics Bowl team 'AA (Army Ants)'. Dimitri answers correctly the equation on the screen that Dr. Gablehauser switches on, but Sheldon retracts and Dr. Gablehauser states that what Dimitri said was indeed the correct answer and because of Sheldon's retracting, this causes Leonard, Howard, Raj and Leslie's team PMS (Perpetual Motion Squad) to win the contest.
Mike (Andrew Walker): an ex-boyfriend of Penny's who first appears in "The Nerdvana Annihilation" where he is shown to be dating Penny. In "The Tangerine Factor", Penny breaks up with him after he posted several "details about their sex life" in his blog. She attempted to reconcile with him after Leonard unintentionally convinced her to do so, only to walk in on him having sex with another woman. After these events, Leonard took his chance and asked Penny out on a date.
Season 2
Blaine (Tyler Olson) and Tom (Mark Hames): A couple of guys Sheldon tries to fix up with Penny in order to help break her video game addiction. In his clumsiness, Sheldon gives Blain the incorrect impression that he is inviting him on a date (with sex) rather than fixing him up on a date with a woman (Penny). Tom is a person whom Sheldon finds in an online dating service who was matched to Penny because he likes the woman to be the sexual seducer.
Octavia (Octavia Spencer): a clerk working at the California Department of Motor Vehicles who hands Sheldon a drivers permit after he refuses to take the test, but instead points out inaccuracies in the test. The name of the character is not used on the show, only in the credits.
Maria (Elena Campbell-Martinez) and Lourdes (Livia Treviño) a couple of janitors working the night shift at Cal Tech, who discover that Sheldon is living there. Sheldon instructs them not to tell anybody about it. The name of the characters is not used on the show, only in the credits.
Kathy O'Brien (Emily Happe): A female graduate student, who becomes Sheldon's groupie and Sheldon exploits to get free food. Kathy is the second groupie that comes into Sheldon's life after he kicked Ramona out.[18]
Dr. David Underhill (Michael Trucco): A MacArthur Genius Grant recipient, David is an experimental physicist like Leonard, who is excited to be working with him. With his leather jacket and handsome looks, Penny is shocked to know that David is a scientist and starts dating him. They break up when she finds out he is married.[30]
Alicia (Valerie Azlynn): A woman who moves into an apartment above Leonard and Sheldon. Penny displays a fit of jealousy at this turn of events, thinking that Alicia is supplanting her in the boys' attention. Alicia is an actress, although more successful than Penny, having landed a role on CSI as a (dead) prostitute. Eventually, to Howard's delight, she and Penny get into a catfight.[31]
Mikayla (Jodi Lyn O'Keefe): a prostitute in "The Vegas Renormalization" episode whom Leonard and Raj pay to have sex with Howard.
"Captain Sweatpants" (Ian Scott Rudolph) and "Lonely Larry" (Owen Thayer): Two dorks that are sometimes seen at the guys' favorite comic book store.[5][7] Captain Sweatpants is a middle-aged bald man who wears grey sweatpants and a City of Heroes T-shirt. Lonely Larry wears a brown suit and is extremely thin. They are also friends with Wil Wheaton.
Season 3
Dr. Crawley (Lewis Black): An entomologist at the University, Dr. Crawley is visited by Sheldon, Howard, and Raj in order to identify the species of a cricket they found. He is agitated at losing his position at the university, his lab, and, as a result of an extended research trip, his wife.[32]
Bethany (Molly Morgan), Sarah (Sarah Buehler), and Skeeter (Andy Mackenzie): Characters who appear in The Gothowitz Deviation episode. Bethany and Sarah are a couple of girls that Wolowitz and Raj meet in a Goth club. They then go to a tattoo parlor, where Skeeter is the tattoo artist. The name "Skeeter" is not used on the show, but appears in the credits.
Professor Laughlin (Oliver Muirhead): Professor Laughlin is a British professor who leads Cal Tech's Stellar Evolution Research Team, which Raj attempts to join in an effort to avoid being deported back to India. Unfortunately, he doesn't get the job, because an attractive female member of the team turns up at his interview, and when he attempts to cure his selective mutism by drinking some sherry he was offered, he has too much and makes an overtly sexual comment.
Dr. Catherine Millstone (Elizabeth Bogush): Member of Professor Laughlin's Stellar Evolution Research Team whose appearance causes Raj to drink a little too much in order to talk to her. He ends up offending both of them, thus ruining his chances of joining the team.
Abby (Danica McKellar) and Martha (Jen Drohan): With Leonard and Howard busy on a double date with Penny and Bernadette, Raj and Sheldon attend a university mixer where they meet Abby and Martha. Abby takes a liking to Raj, while Martha tries to connect with Sheldon. While Raj and Abby end up kissing, Sheldon completely ignores Martha, who even tries to go to bed with him.[4]
Officer Hackett (Julio Oscar Mechoso), a police officer who comes to investigate the burglary in Sheldon and Leonard's apartment in The Bozeman Reaction episode. His name is not mentioned in the episode itself, but does appear in the credits.
Sandy (Yeardley Smith): A bureaucrat who interviewed Sheldon for a menial job in The Einstein Approximation episode.[33] The name "Sandy" was not used on the show, but appeared in the credits.
Glen (Kevin Brief): A mall security guard stationed outside a ball pit in The Einstein Approximation episode.[33] The name "Glen" was not used on the show, but appeared in the credits.
Venkatesh Koothrappali (Frank Maharajh): Raj's cousin, a lawyer in India, who tries to negotiate a deal for Raj's part of the One Ring prop from Lord of the Rings. He, by his own admission, is a bad negotiator, and doesn't get Raj even one of the two JetSkis that Raj wanted.
Dr. Elizabeth Plimpton (Judy Greer): A renowned cosmological physicist from Princeton University known for her work in quantum cosmology who comes as a personal guest of Sheldon in The Plimpton Stimulation episode, and winds up having sex with Leonard and Raj, and expresses a desire for a foursome with Leonard, Raj, and Wolowitz.
Sebastian (Steven Yeun) Sheldon's former roommate who left Sheldon on bad terms. Sebastian makes a single appearance in The Staircase Implementation, where he tells Leonard to "run fast, run far" from Sheldon. His name is not used in the episode, but is listed in the credits.
Louie/Louise (Ajgie Kirkland): A former occupant of the apartment in which Penny lives. He is a cross transvestite whom Leonard mistakenly runs into in The Staircase Implementation episode. The name Louie is used by Sheldon, referring to him/her as Louie/Louise.
Joyce Kim (Ally Maki): A previously unseen character who appears in The Staircase Implementation, Joyce Kim used to be mentioned as a former girlfriend of Leonard whose relationship with her only lasted a month, after which she defected back to North Korea.[20] However, in The Staircase Implementation, Leonard admits that she wasn't a girlfriend, but a North Korean spy who attempted to get secrets from him by seducing him.
Mrs. Gunderson (Lauri Johnson): Third floor neighbor of Leonard and Sheldon who hears Leonard and Penny having sex and feels compelled to comment on it.
Season 4
Season 5
Alice (Courtney Ford): A beautiful comic book artist whom Leonard meets at the comic book store and ends up spending time with her and sharing one kiss while being in a relationship with Raj's sister Priya. When Leonard says all this, Alice kicks him out of her apartment. Later, Leonard confesses everything to Priya, but when she tells that a couple of weeks ago she slept with her ex-boyfriend, their relationship ends.
Season 6
Season 7
Eric (Eric Petersen): A guy Sheldon meets in "The Locomotive Manipulation" on the train while on a romantic Valentine's Day trip with Amy, Howard and Bernadette. They start to bond over trains and later Sheldon leaves with him and when they return from hanging out alone together, Eric detects a little friction between Sheldon and Amy after they start arguing and he doesn't want to be a third rail. After Amy makes him leave, Sheldon is made by Amy to be romantic to her and he finally kisses her on the lips on his own accord which lasts for 11 seconds and invites her to come with him to the front of the train, which she accepts and when they head for their destination, Eric follows and catches up with them.
Season 8
Dr. Oliver Lorvis (

Billy Bob Thornton

): A client of Penny's who exhibits some of the same traits of each of the guys. His women dating techniques mirror Howard's creepiness, he lives with his mother and thinks that every women who is nice to him wants to be with him also like Howard. He appreciates Sheldon's way with women. He counts the length of a woman's touching him with Mississippi's like Leonard did counting duration of the hug that Penny gave him. In "The Misinterpretation Agitation", the good doctor shows up at Penny's door with flowers to initiate a romantic relationship after she winked at him and held his arm during a sales call. Sheldon notes his present to Leonard who goes to investigate. Sheldon explains that she is engaged to him and the doctor walks away upset, so Sheldon invites him in for a hot beverage. He explains that he is a urologist to the stars and has accumulated an impressive movie memorabilia collection. The guys get an invitation to see his collection which is like being in geek heaven. Sheldon remarks that the Leonard-Penny relationship is doomed, so the doctor locks them in his trophy room and goes after Penny again. walking up the stairs, he meets and connects with Amy falling for her. Penny has them both in and tries to get him to understand how creepy his actions are. Learning about the guys being locked up, she drags him back to his house with him asking about Bernadette on the way out. After the girls, rescue the guys, they can't break away from Leonard's record setting "Donkey Kong". The good doctor then shows the girls Tobey Maguire's prostate sonogram.
Jeanie (Kara Luiz): Howard's second cousin whom he lost his virginity to when he was 15 years old in her father's Toyota Corolla after the funeral of Howard's uncle Murray. In "The Prom Equivalency", Stuart brings her as his date to the redo prom, which humiliates Howard. Jeanie's having sex with Howard that night doesn't matter to her because it was a long time ago, but Howard soon loses it and Howard ends up attacking Stuart in the limo. During the prom, Stuart and Jeanie are about to have their picture taken, but a call to Stuart from Debbie makes Stuart leave and causes Jeanie to be angry at Stuart leaving her.
Josh Wolowitz (Matt Bennett): Howard's half-brother who first appears in "The Fortification Implementation" when he comes to Howard's late mother's house after learning through a lawyer that his father's name was still in the title for the house. He is a college student in San Diego studying oceanography. Howard, at first, wanted him to leave because he couldn't stand the thought of his father having another family, but then they bonded over Howard being an astronaut and their similarly warped personalities. Howard hugged Josh, telling him that he definitely is his brother.
Season 9
Mandy Chow (

Melissa Tang

): A marine biologist at Caltech who was on the North Sea expedition with Leonard and at that time both were drunk and accidentally made out. Leonard confesses this to Penny 2 years later and nearly has his wedding day blown and he and Penny later end up fighting. Mandy appears in "The Separation Oscillation" where Leonard asks her if she could to talk to Penny to sort things out and during the talk, Mandy turns out to be a good therapist and a good marriage counselor for Leonard. Later, Leonard and Penny reconcile.
Dr. Gallo (Jane Kaczmarek): A psychiatrist who appears in "The Sales Call Sublimation" where Penny is unable to pitch drugs to her so she sends Leonard as a patient where she is familiar with his mother's books and tells him that she doesn't agree at all with her theories on child-raising which pleases Leonard. Leonard successfully gets Dr. Gallo to meet Penny and Penny now feels that Leonard is the best husband ever. She also ends up conducting therapy on both Leonard and Penny.
Constance/Meemaw (June Squibb): Sheldon's maternal grandmother who is mentioned several times in the series before first appearing in the Season 9 episode "The Meemaw Materialization" where she visits Sheldon in Pasadena and also meets Leonard, Penny and Amy. It appears she came to visit her grandson, but the real reason she came was to size Amy up and she dislikes Amy because of her breaking Sheldon's heart when she broke up with him. Meemaw keeps this to herself until dinner where she reveals this in front of her grandson, his girlfriend and the married Hofstadter couple. Later, Sheldon reasons with her about how she made her husband (Sheldon's maternal grandfather) a better person when he was stubborn and egotistical and Meemaw soon gives her blessings to Sheldon and Amy's relationship.
Trevor (Blake Anderson): A guy with whom Sheldon has conflict when he cuts in front of him, Leonard, Howard and Raj at the movie theater.
Season 10
Season 11
Robert Wolcott: A brilliant, but reclusive topologist who invites Sheldon to his cabin in the middle of nowhere to discuss his own breakthrough. He is also rather crazy and paranoid and also married, although he and his wife live separately.
Season 12
George Cooper Sr.: Sheldon's father who died years before the show started. He appeared in "The VCR Illumination" where after Sheldon watches a video tape of his father from Young Sheldon, he gets an inspiration from his father not to give up on re-writing his super-asymmetry paper.
Mentioned characters
These characters have been mentioned in the show, either directly, indirectly or in writing, but have never been seen.
Notable guest stars appearing as themselves
Multiple scenes / multiple episodes
Cameo appearances
References
External links