Doctor Strange in The Multiverse o Madness - The Loop
Play Sound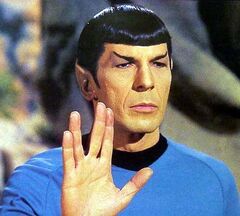 Leonard Nimoy (March 26, 1931 - February 27, 2015) was an American actor. He was best known for his iconic portrayal of the half-Vulcan Spock in the Star Trek movies and television series. Sheldon is obsessed with Nimoy as a result of his obsession with Spock.
He died on February 27, 2015, at the age of 83 due to complications from COPD (chronic obstructive pulmonary disease). Because of this, Sheldon's restraining order is no longer in effect. 
Nimoy on TBBT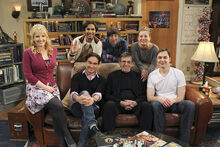 In "The Bath Item Gift Hypothesis" (S02E11), Penny presented Sheldon with a napkin signed by Leonard Nimoy when she saw him in the Cheesecake Factory. Sheldon was overjoyed to receiving the napkin as a Christmas gift from Penny, and overwhelmed on learning the napkin contained Nimoy's DNA. Sheldon briefly mulled the notion of cloning Nimoy. The episode concludes with a Saturnalia miracle, a never-seen-before "Sheldon Hug".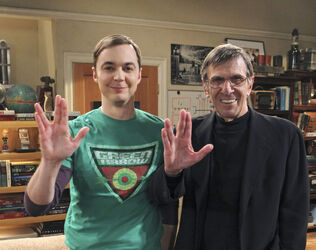 In "The Excelsior Acquisition" (S03E16), Sheldon revealed that he had a restraining order from Leonard Nimoy after receiving a restraining order from Stan Lee. He unfortunately died on the 27th of February 2015, live long and prosper, a life well lived. His death was not mentioned on the show except in Chuck Lorre's end card.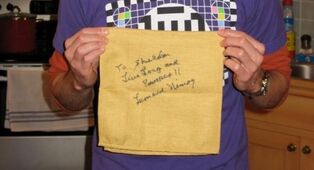 After "The Colonization Application" and after "The Leftover Thermalization" preview, The Big Bang Theory gave tribute to Nimoy by Chuck Lorre's vanity card saying, "The Impact you had on our show and on our lives is everlasting". A similar tribute happened to Carol Ann Susi.
In "The Spock Resonance", Wil Wheaton and Leonard Nimoy's son Adam Nimoy are doing a documentary on his father and he interviews Sheldon. Sheldon also pulls the Nimoy napkin from his wall safe.
As Spock
In "The Transporter Malfunction" (S05E20), Nimoy provides the voice for a Spock action-figure who convinces Sheldon to use his transporter, and then shuns him for replacing it with Leonard's after he broke his own. Sheldon eventually feels ashamed for defying him and his guilt is convincing for him to apologize to Leonard.
External links
Gallery