Wiki Targeted (Entertainment)
Play Sound
Kunal Nayyar (कुणाल नय्यर) (born April 30, 1981, London, England) is a British comedian-actor of Indian descent. He is best known for his role as Rajesh Koothrappali on the CBS sitcom The Big Bang Theory.
Character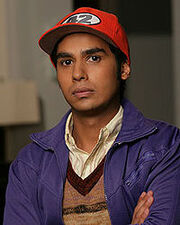 Dr. Rajesh Koothrappali (Kunal Nayyar) is Howard Wolowitz's best friend and yet another genius; his name is usually shortened to "Raj". He is originally from New Delhi, India and he works in the Physics department at Caltech, where his area of expertise is particle astrophysics. Til the end of season 6, Raj was extremely shy when it comes to dealing with women; he was unable to speak to them unless he drank alcohol. Raj communicates with his parents, Dr. V. M. Koothrappali and Mrs. Koothrappali, in India through a webcam. Raj is often seen wearing a layered combination of two shirts and khakis with a jacket over them.
Offscreen, Kunal has a close friendship with Simon Helberg, who plays Howard onscreen.
Education
St. Columba's School (New Delhi, India) High School Education
University of Portland (Portland, Oregon], United States) BS in Business (BSS)
Temple University (Philadelphia, United States) Masters in Fine Arts (MFA)
Personal life
Nayyar has been married to Miss India 2006 winner Neha Kapur since 2011.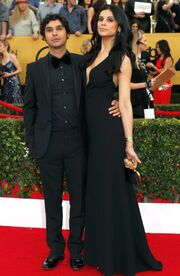 Career
Recently, Nayyar teamed up with Arun Das to write the critically acclaimed play Cotton Candy, which is currently still running in New Delhi, India.
Nayyar also previously guest-starred in the CBS drama NCIS (Naval Criminal Investigative Service) in the episode "Suspicion" (Season 4, Episode 12), in which he played Youssef Zidan, a terrorist.
He was on The Bonnie Hunt Show on April 22, 2009 and on The Late Late Show with Craig Ferguson on May 8.
He voiced Gupta de Badger in "Ice Age 4: Continental Drift"
He currently voices Sanjay's father in the Nickelodeon cartoon "Sanjay and Craig"
Filmography
Trivia
He shares his birthday with his former co-star, Johnny Galecki (April 30th). The only difference is their birth years (Galecki - 1975, Nayyar - 1981).
Gallery
External links