Kevin Sussman (born December 4, 1970) is an American actor of television and film perhaps best known for his recurring roles as Stuart Bloom on The Big Bang Theory and as "Walter" on the now defunct comedy-drama Ugly Betty. Kevin has been promoted to series regular on CBS sitcom The Big Bang Theory starting from the sixth season. While he was demoted back to recurring guest during the end of the sixth season, he was promoted to series regular again starting with the eight season. Besides the main couples and Raj, he has had the most appearances.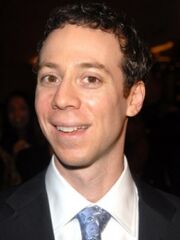 Education
Kevin attended the College of Staten Island for one year and went on to graduate from the American Academy of Dramatic Arts in New York City. He later studied with famous acting teacher Uta Hagen for four years.
Personal life
Kevin was born in Staten Island, New York, and is the youngest of four brothers.
He is a very close friend of co-star John Ross Bowie, who plays Barry Kripke on The Big Bang Theory. They met on the set of Ugly Betty, where Sussman played the character of Walter, and Bowie's wife knew one of the actresses. Together they have written three TV pilots together, one of which (Dark Minions) was picked up by Amazon in 2013. Both provided voices for the main characters in the pilot.
Kevin Sussman is getting divorced from his estranged wife Alessandra Young. Their divorce documents were signed Oct. 3 — more than three years after the former couple's judgment of legal separation was entered May 28, 2014, in Los Angeles Superior Court. They were wed in January 2006 and split on Dec. 31, 2012.
Accident
In November 2014, Kevin broke his leg in a bike accident, causing him to be written out of a couple of episodes of the eight season of The Big Bang Theory. Just like in Kaley Cuoco and Mayim Bialik's cases, his injury was not written into the show when he got back; instead, his broken leg was mostly hidden behind the counter of the Pasadena comic book store.
Filmography
IMDb [1]
Trivia
External links
Community content is available under
CC-BY-SA
unless otherwise noted.