House of the Dragon Trailer - The Loop
Play Sound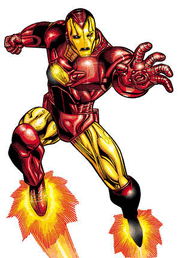 Iron Man is a fictional superhero who appears in comic books published by Marvel Comics. The character debuted in Tales of Suspense #39 (March 1963), and was created by writer-editor Stan Lee, scripter Larry Lieber, and artists Don Heck and Jack Kirby. Iron Man gets mentioned several times and is highly respected by the gang.
Born Anthony Edward "Tony" Stark, he is an industrialist playboy and genius engineer who suffers a severe heart injury during a kidnapping in which his captors attempt to force him to build a massively destructive weapon. He instead creates a powered suit of armor to save his life and escape captivity. He later decides to use the suit to protect the world as Iron Man. Through his multinational corporation, Stark Industries, Tony created military weapons and his own metal suit is laden with technological devices that enable him to fight crime. Initially, Iron Man was a vehicle for Stan Lee to explore Cold War themes, particularly the role of American technology and business in the fight against communism. Subsequent re-imaginings of Iron Man have gradually removed the Cold War themes, replacing them with more contemporary concerns such as corporate crime and terrorism.
Throughout most of the character's publication history, Iron Man has been a member of the superhero team "The Avengers" and has been featured in several incarnations of his own various comic book series. Iron Man has been adapted for several animated TV shows and films. The character is portrayed by Robert Downey Jr. in the live-action film Iron Man (2008), which was a box office success. Downey reprised the role in the equally successful sequel, Iron Man 2(2010), Marvel's The Avengers (2012), Iron Man 3 (2013), Avengers: Age of Ultron (2015), and Captain America: Civil War (2016) and also played him in a cameo in The Incredible Hulk (film)|The Incredible Hulk (2008). He will appear in Spider-Man: Homecoming (2017) as well as Avengers: Infinity War (2018)
Series quotes
The Big Bang Theory quotes:
Leonard: If we do get a new friend he should be a guy you can trust. A guy who has your back.
Howard: And he should have a lot of money and live in a cool place down by the beach where we could throw parties.
Sheldon: He should share our love of technology.
Howard: And he should know a lot of women.
Leonard: Let's see: money, women, technology. Okay, we're agreed. Our new friend is going to be... Iron Man.