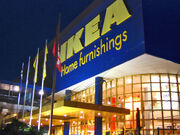 IKEA
is a
Swedish
company specializing in the production and sale of furniture. Their use of '
flat-pack
' furniture, which requires the consumer to build the furniture themselves, and large out-of-town warehouse-styled stores have made them a cheap and popular place to buy furniture across the world.
Relevance to the show
In "The Big Bran Hypothesis", the flat-pack entertainment center which caused Sheldon and Leonard so much trouble getting up the stairs was, according to Penny, a "cheap Swedish media center", which almost certainly means that it came from IKEA (Bill Prady referred to the media center as being from IKEA in an interview, actually).
Trivia
Just for the record, IKEA delivery people do bring the boxes up to your apartment, even if it's on the fourth floor.
Penny's apartment 4B has been described as an IKEA explosion.
Community content is available under
CC-BY-SA
unless otherwise noted.