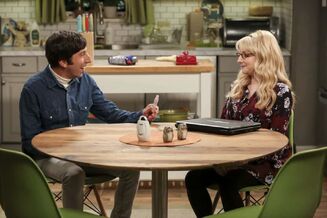 Howard and Bernadette began dating in "The Creepy Candy Coating Corollary", were engaged in "The Herb Garden Germination", then they finally married on "The Countdown Reflection". In season 9, they became the first main pairing expecting a child. Their daughter, Halley, was born in the Season 10 episode, "The Birthday Synchronicity". They were expecting another baby as of "The Proposal Proposal". The baby was revealed to be a boy in "The Explosion Implosion". Their son, Neil Michael Wolowitz, was born in "The Neonatal Nomenclature". Howard and Bernadette have been the couple to first experience all the milestones of a relationship throughout the series except the first date and consummation.
Relationship History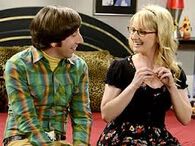 Season 3
"The Creepy Candy Coating Corollary"- Howard was introduced to Bernadette via Penny. Howard asked Leonard to invoke the girlfriend pact where one would set up the other if they got a girlfriend. At first, she and Howard did not get along on their date, since they appeared to have nothing in common. However, when they found out that they both had overbearing mothers they immediately felt a connection.
"The Vengeance Formulation"- Bernadette asks Howard for a commitment in their relationship. After deliberating, Howard proposes to Bernadette, but she rejects. Their relationship resumed after Howard asked for a second chance when he sang his own rendition of "Bernadette," by The Four Tops.
"The Plimpton Stimulation"- Howard announces that he and Bernadette broke up a few weeks ago. Howard claims that he did not tell anyone because he was waiting for the "right time."
Season 4
Season 5
Season 6
"The Date Night Variable"-. Bernadette insists that Howard tell her mother that they were moving out of his mother's house though Howard told his mother that they were reconsidering the move. Howard considers remaining at the International Space Station rather than facing the two women in his life that he had lied to.
"The Re-entry Minimization"- Bernadette wants time alone with her new husband and asks the gang not to be at the airport when he arrives. While at home as they settle in the bedroom for a belated honeymoon, Bernadette falls asleep due to her allergy medication.
"The Holographic Excitation"- Howard and Bernadette go to the comic book store dressed up in costumes as Smurfs.
"The Habitation Configuration"- Bernadette gets Howard to move his stuff out of his old room. Even though he does do it, she doesn't want her husband to break his mother's heart and they go back to spend the night there.
"The Cooper/Kripke Inversion" - Howard spends a lot of money on a 3-D printer to make a mini-Howard and mini-Bernadette. She loves them until she learns how much they spent. She takes him off their joint checking account until he can learn the value of money.
"The Spoiler Alert Segmentation" -- Howard and Bernadette go to see a Cirque de Soliel show and, inspired, injure themselves afterward attempting extremely kinky sex. As they recover, Howard learns that his mother has been doting heavily on Raj, in effect treating him as a surrogate son and won't let him out of her house.
Season 7
Season 8
In "The Hook-up Reverberation ", Raj tells the gang that Stuart didn't get enough insurance money to reopen his store. The guys decide to give him the money and were enthusiastic about owning a comic book store. Howard mentions an investment opportunity to Bernadette who immediately says "nope". They are saving up for a house and it sounds "risky." Howard then mentions that he used to go to the comic book store with his Dad and Bernie changes her mind even though she knows he made up the story. They propose to Stuart to give him the money for the comic book store which Mrs. Wolowitz has already done upsetting Howard.
In "The Septum Deviation", Raj learns that his parents are getting divorce lawyers. It seems over the years they did not communicate and let a lot of little things boil over until they hated each other. Bernadette worries about their marriage and Howard is reluctant to describe what bothers him about Bernadette. Howard has been through couples' therapy (with Raj) and one trick is to describe what one loves about the other. It starts out fine, but then get petty as they sarcastically tell each other what bothers in pseudo-supportive terms.
After the death of Howard's mother, they worked on her house and moved in leaving Bernadette's apartment in the latter part of season 8.
Season 9
Bernadette wants to redecorate the house to remove anything she finds depressing. Stuart moves out and the redecorating is accomplished. In the episode "The Valentino Submergence", she mentions that she is pregnant with their first child to the rabbit they rescued. In "The Positive Negative Reaction", she tells Howard the news. Howard is at first freaked out a the responsibility of raising a child and then embraces the future as much as Bernie does.
In "The Big Bear Precipitation", Raj is getting too personal with his interest in Bernadette's gestation. They ask him to back off. They all get to hear the baby's heart beat, while Bernadette is getting extra emotional due to her increased hormone levels.
Season 10
At first Bernadette is not excited about all the baby preparations which makes her think that she'll be a bad mother. A discussion with Raj's father who is an OB/GYN, makes her feel better. In "The Cohabitation Experimentation", they have a sonogram and don't want to know the baby's gender. Raj knows to their discomfort and the couple has a battle of conscious on whether to find out. Also Raj is way too involved in the pregnancy including going into her OB/GYN exams. After feeling the baby kick, Howard runs out and buys an expensive crib and a minivan.

In "The Birthday Synchronicity", Bernadette is rushed to the hospital and gives birth to their daughter Hallie Wolowitz. Howard helps Bernadette during the time she was in labor and trying to calm her down. Howard felt bad that she was in pain.
Season 11
In "The Proposal Proposal", when Sheldon calls about his engagement to Amy, Howard tells Bernie who discovers that moment that she again pregnant. Howard thinks that she is crying about the engagement. When she tells they start several rounds of "No" and "Yes" with both of them wondering if they can raise another baby.
In "The Explosion Implosion", they learn their unborn child was going to be a boy as Howard is worried he won't be manly enough to raise a boy. After a talk with Sheldon, he overcomes his worries and prepares to raise another child with his wife.
In "The Neonatal Nomenclature", Howard gets upset that Bernadette has already decided that they are going to name their son Michael after her father. The gang tries to help Bernadette get into labor and when she does she had her son and they name it Neil Michael Wolowitz after Neil Armstrong, Diamond and Gaimen. Bernadette still insists that he'll be called Michael.
In "The Athenaeum Allocation", both parents seem to want to stay at home with the kids, but individually they find it exhausting and really don't want to give up their careers.
Gallery