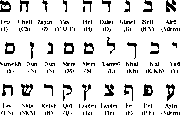 The Hebrew language was the traditional language of ancient Jews, and was the language in which the original Old Testament of the Bible was written in. Today, the modern form Hebrew is the official Language of State of Israel, and also serves as the ritual language for Jews all over the world. In the show, the Wolowitz family are the only Jews though other actors are.
Appearances in The Big Bang Theory
(Howard screams while the capsule descends through the atmosphere)
-Dimitri Rezinov: Loops, calm down!
-Howard: Barukh atah Adonai, Eloheinu melekh ha'olam, ha'motzi lehem min ha‑aretz! (We praise You, Eternal God, Sovereign of the universe, who causes bread to come forth from the earth.)
-Mike Massimino: What's that?
-Howard: The Jewish prayer for eating bread! We don't have one for falling out of space!
-Howard: So, what do we do now? They expect us to go away for the weekend.
-Mr. Rostenkowski: Ah. There's an Indian casino near Palm Springs. You know how to shoot craps?
-Howard: No, but I'm not a stranger to dice games. I was the Temple Beth-El Hebrew School Yahtzee champion.
-Mr. Rostenkowski: Mazel tov. I'll teach you how to play.
-Howard: Really? Thank you, sir.
Community content is available under
CC-BY-SA
unless otherwise noted.