House of the Dragon Trailer - The Loop
Play Sound
George Takei (born April 20, 1937, Los Angeles California) plays the role of Captain Hikaru Sulu in the Star Trek: The Original Series and the original series movies. George appeared in the episode "The Hot Troll Deviation," where he acted as a version of himself who accidentally appeared in Howard's masturbatory fantasy and gave him relationship advice.
He is a proponent of gay rights and active in state and local politics as well as continuing his acting career. He has won several awards and accolades in his work on human rights and Japanese–American relations, including his work with the Japanese American National Museum. He was also held by the United States' government during World War II as an American citizen of Japanese descent. On Star Trek in started out as a Lieutenant and was promoted to Captain and got his own starship.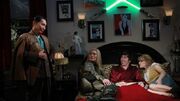 In that episode Howard begins his fantasy with Katee Sackhoff, which was soon followed by the accidental appearance of Bernadette and George. Upon his appearance, Katee asks Howard if he has "...latent homosexual tendencies", Howard swiftly denies and George replies with "So you say, but here I am." Then George and Katee discussed about the difficulty of expanding their career to different genre after becoming a sci-fi icon, they both left Howard and Bernadette later.
Later in that episode when Howard got back together with Bernadette, they went out on their first date. When they had a good night kiss, George and Katee gave conflicting advice on how it should be been instead. Katee challenges George's credibility to give advice on romancing women, since he is gay; nevertheless, George's advice works better with Bernadette.
Gallery
External links