Game of Thrones is an American fantasy drama television series created for HBO by David Benioff and D. B. Weiss as show runners and main writers. It is an adaptation of A Song of Ice and Fire, George R. R. Martin's series of fantasy novels, the first of which is titled A Game of Thrones. Sheldon, Leonard, Howard, and Raj are all fans of the show.
In "The Russian Rocket Reaction", Leonard and Sheldon drool over a sword from "Game of Thrones". They decide to start a fantasy sword collection together and haggle Stuart down to $210 from $250.
In "The Comic Book Store Regeneration", when Raj and Leonard are debating whether to meet who they think is Nathan Filion, Raj mentions that they met the actor who played Jon Snow (Kit Harington), and he was a jerk, but they still watch "Game of Thrones". Leonard points out that the reason Harington was a jerk was because Raj rear-ended him.
In "The Skywalker Incursion," when Amy compared Bernadette and Howard picking champions to a trial by combat, Penny compared it to the duel between the Mountain and Red Viper. When Bernadette asked if Leonard made her watch it too, Penny answered that she actually liked it because it has dragons and coitus.
In "The Application Deterioration", Raj mentions the events of the episode "Mhysa", in which Balon Greyjoy receives a box from Ramsay Snow containing the severed penis of his son, Theon Greyjoy.
Trivia
Sheldon and Leonard buy a Game of Thrones sword replica of Longclaw, sword of Jon Snow, to start their fantasy sword collection. Afterward, the sword is mounted to the right of their apartment door on the accompanying plaque that reads 'Winter is Coming'. It later hangs next to the front door. An actual licensed version of the sword runs around two grand.[1]
The sword is made from Valyrian Steel. See their blog about their sword's appearance on the show.
A behind the scenes photo was released of Johnny Galecki trying to behead a sleeping Kaley Cuoco with the sword.
Penny actually likes the "Game of Thrones" television series because it has dragons and coitus.
Howard watched it with his mother who would asked, "Which one is Thrones?"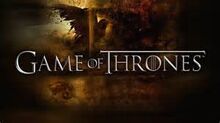 References
Community content is available under
CC-BY-SA
unless otherwise noted.