Ellen Lee DeGeneres was born January 26, 1958 and is an American comedian, television host, actress, writer, and producer. She starred in the popular sitcom "Ellen" from 1994 to 1998, and has hosted her syndicated TV talk show, "The Ellen DeGeneres Show", since 2003.
Her stand-up career started in the early 1980s, culminating in a 1986 appearance on The Tonight Show Starring Johnny Carson. Carson likened her to Bob Newhart, and invited her for an onscreen chat after her set; DeGeneres was the first female comedian invited by the iconic host to join him for such a discussion, at a time when such an invitation was widely regarded as one of the most influential endorsements available for a comic. As a film actress, DeGeneres starred in Mr. Wrong (1996), appeared in EDtv (1999), and The Love Letter (1999), and provided the voice of Dory in the Pixar animated films Finding Nemo (2003) and Finding Dory (2016); for Nemo, she was awarded the Saturn Award for Best Supporting Actress, the first time an actress won a Saturn Award for a voice performance. In 2010 she was a judge on American Idol for its ninth season.
Ellen has been known for having stars from The Big Bang Theory appear on her show. This includes: Jim Parsons, Kunal Nayyar, Melissa Rauch, and Kaley Cuoco (though Kaley has made frequent appearances on the show).
Series History
In "The Geology Elevation", Bert the geologist mentions her show. He and Sheldon go visit her show and are seen in the audience. Sheldon finds it funny, but is not familiar with Ellen. The "Ellen" show is also filmed on the Warner Brothers lot.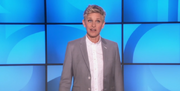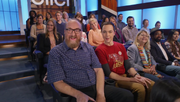 In "The Confirmation Polarization", Dr. Pemberton and Dr. Campbell meet Sheldon and Amy" and are more excited about seeing the "Ellen" show than confirming the Coopers' theory.
In "The Laureate Accumulation" Dr. Pemberton and Dr. Campbell appeared on her show promoting their accidental discovery of Super-Asymmetry that was theorized by Sheldon and Amy.
Community content is available under
CC-BY-SA
unless otherwise noted.