Wiki Targeted (Entertainment)
Play Sound
Cheryl was a colleague of Penny's at the Cheesecake Factory.
She attended Penny's Halloween party, in "The Middle Earth Paradigm", and bumped into Rajesh Koothrappali after having downed a couple of alcohol|drinks, or so we think. She proceeded to ask him "How wasted am I?" Raj did not answer because of his selective mutism. Later that night, Cheryl, through no persuasion or speech whatsoever from Raj, had sexual intercourse with him, calling him "such a good listener."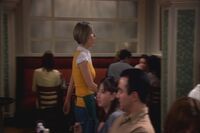 In "The Pancake Batter Anomaly", Cheryl was seen again working at the Cheesecake Factory, and when a sick Sheldon appeared. She then warned Penny about the "crazy homeless guy at table 18", to which Penny answered, "no... just crazy".
Gallery