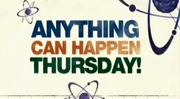 Anything Can Happen Thursday is every third Thursday of the month, when the guys do something else than what is normally scheduled.
The guys have introduced it sometime before the episode "The Hofstadter Isotope" (S02E20) to have a little change in their routine; however, Sheldon struggles to cope with it, in particular with his digestive system. The others guys wanted to visit a bar to look for women; however, when Penny needs a comic book for her nephew's birthday, they end up taking her to the comic book store which is normally a Wednesday activity.
In "The Anything Can Happen Recurrence" (S07E21), it is revealed that the guys stopped doing "Anything Can Happen Thursday" because Penny made fun of them and said it was stupid. When Sheldon needs to take a break from finding his next area of focus in science after giving up string theory and Penny cannot stop complaining about her gorilla movie, Leonard suggests to bring "Anything Can Happen Thursday" back and Sheldon agrees. When Sheldon, Leonard and Penny cannot think of anything to do, they just leave the apartment for a walk to look for a new restaurant. However, when it emerges that Bernadette and Amy lied about their plans to avoid their complaints, Sheldon and Penny storm off together and eat at an Asian fusion restaurant. Penny later ends up taking Sheldon to a psychic in an attempt to help him find a solution to his problems.
Community content is available under
CC-BY-SA
unless otherwise noted.