FBI Special Agent Angela Page
is the F.B.I. agent who does a background check on
Howard
for his security clearance to be on the Defense Department Laser Equipped Surveillance Satellite team. She is married to a 6-foot 2 inches (188 cm) Navy Seal. She seems rather tolerant to the antics of the boys, especially
Sheldon
.
Character Information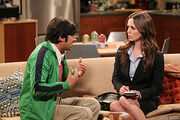 In "The Apology Insufficiency", she did a background check on Howard for his security clearance. On her interview with Raj, he keeps talking about how he is in United States|this country legally because he was paranoid of getting deported back to India. Then, Leonard hit on her, but soon discovered that she was already married. In the end, it was Sheldon who drove the final wedge when he accidentally mentioned Howard crashing the Mars rover while trying to impress a girl; (Stephanie Barnett). After Howard failed to get his clearance which Sheldon did feel guilty about, he did let Howard sit in his spot for under two minutes, but failed in his attempts to retract his statement. The actress played the role straight against all the craziness of the gang.
Trivia
When Agent Page knocks on Raj's door he is reading a book from the Twilight series of vampire fantasy romance novels. This fact is an in-joke as Eliza Dushku who plays Angela Page previously played Faith on Buffy and Angel.
Leonard loves to watch Buffy the Vampire Slayer and in this episode he is talking to Faith from the show.
Gallery
Community content is available under
CC-BY-SA
unless otherwise noted.